Tech UK Job Market: June Update
The tech job market here in the UK is the best state it has even been for IT professionals. Job vacancies continue to rise here in the UK, and it's never been a better time to be looking for your next job: But how long can we expect this growth to last?
This June we saw records broken again, as the amount of job vacancies in the UK rose to 1.3 million.
With more job vacancies than job seekers to fill them, IT professionals have more choice and flexibility in working, can negotiate themselves better salaries and benefits, and companies need to offer more attractive packages such as training and development opportunities.  Which makes it a great time to be searching for your next role.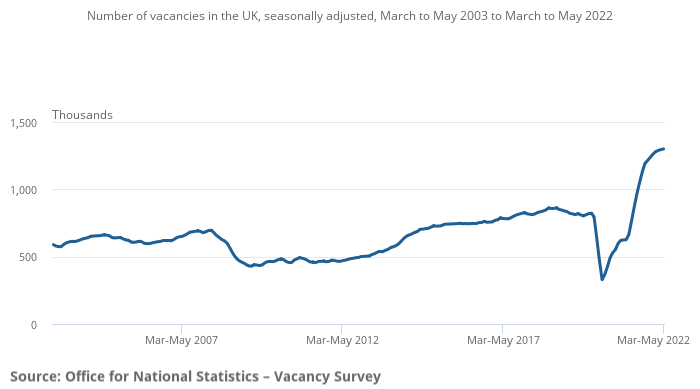 However, the rise in job vacancies has fallen to an increase of only 1.6%; down from last month's 2.7%. The post pandemic recruitment boom slowing down was inevitable, as businesses began to catch up on the hiring freezes that were commonplace during Covid-19 lockdowns.
As we see vacancies continuing to plateau, it may be only a matter of time before the amount of open job vacancies begins to decline. So it's a candidate driven market with hiring managers having to compete harder for talent that knows it is more in demand than ever. But how long will this last?
All of this is compounded by the changing economy, the cost-of-living increases and the potential instability of the UK economy. With a potential recession in the future, it's entirely possible we see a reduction in companies hiring, especially as smaller businesses begin to suffer the increased cost of doing business.
So it's a great time to be searching for a new job, but what about IT professionals?
Job Opportunities in Information and Technological Services
Demand for IT professionals however, is even higher than the UK average for all industries. The BCS, The Chartered Institute for IT, reports that in the 3rd quarter of 2021, there were 64,000 more job vacancies in Information and Communications worldwide, an increase of 36% of the previous quarter, and an increase of 191% compared to the same period in the previous year. And despite slowing down, we have seen this increase continue into 2022.
IT businesses aren't the same as other companies. Businesses that closed their doors and couldn't operate in the virtual world were more deeply affected by the pandemic. In fact, it was the opposite. Businesses making the shift to working from home increased the demand for IT services.
So if it wasn't as affected as other industries, why is there still the ever-increasing demand for IT professionals?
How the IT Skills Gap Has Affected the Tech UK Job Market
Global Knowledges 2021 IT Skills and Salary Report showed that 76% of IT decision-makers are reporting gaps in the skills of their IT staff: And that this skills gap will have led to a loss of $775 billion globally by 2022, due to "decreases in quality, project duration, stress, operating costs and the ability to meet business objectives".
So it's easy to understand why the tech job market continues to grow and employers continue to recruit aggressively. With such high financial stakes, employers are offering higher and higher salaries in attempts to outbid each other for the top talent.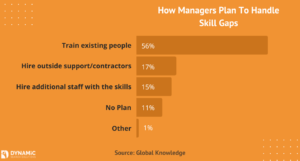 56% of IT managers plan to attempt to plug the skills gap created by the pandemic by training existing staff, while 32% plan to hire additional staff or outsource to contractors or support staff.
So not only are salaries increasing, the skills gap presents great upskilling opportunities for job seekers. At Dynamic we have noticed more and more businesses combining these two solutions, offering training and support in earning certifications as part of their attraction efforts to candidates.
All in all, it's never been a better time to be searching for your next role. But the good times aren't going to last forever, so we suggest moving sooner rather than later. Have a look at our open roles here, or get in touch for a confidential conversation and find out what we can do to support you.
Source link