Theodore Roosevelt Wild Rice and Bison Stuffed Acorn Squash Recipe
Looking for a national park-inspired dish that embodies a region's landscape and historic culture? Then you should definitely try this amazing wild rice and bison stuffed acorn squash recipe!
The inspiration for this recipe is Theodore Roosevelt National Park in North Dakota. While the park's name refers to a white early-20th-century U.S. president who used to visit and temporarily live in the area, I like to focus on the region's older history.
This recipe honors the time when Native Americans lived there, when countless bison roamed the badlands and prairie, when wild plants were gathered, when soils were cultivated.
Wild Rice and Bison Stuffed Acorn Squash Recipe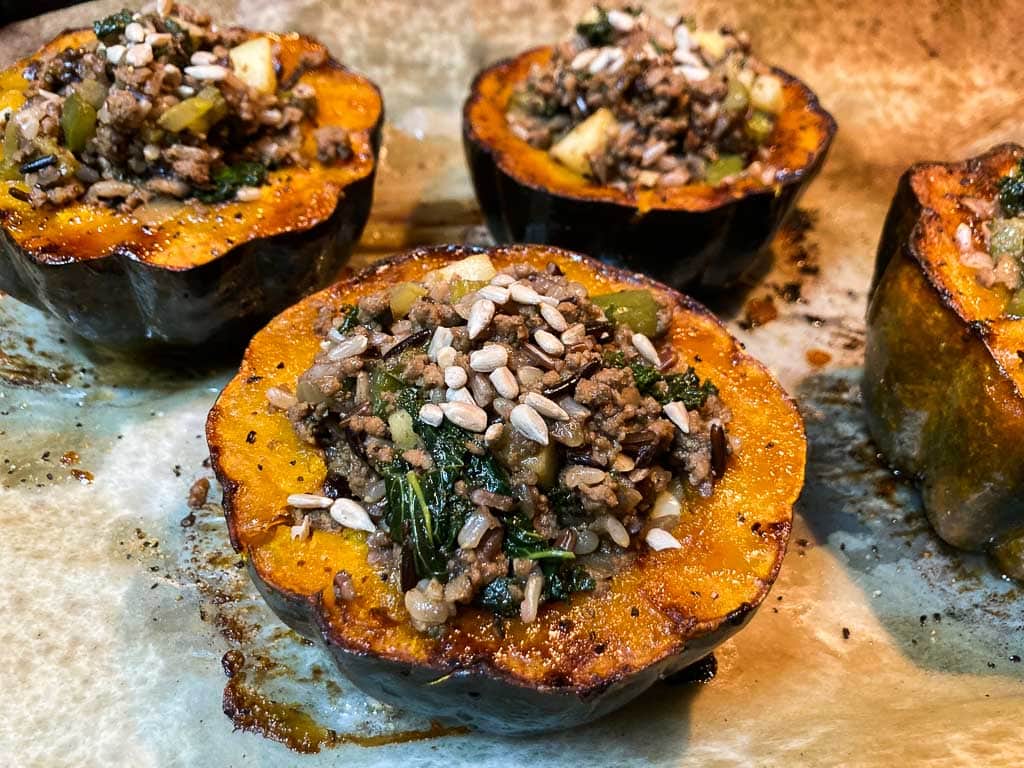 Prep time: 45 minutes
Cook time: 45 minutes
Total time: 1 hour 30 minutes
Servings: 4
Although the badlands of Theodore Roosevelt National Park didn't exactly allow for agriculture, they did offer an effective way to hunt bison.
Many different Native American Tribes went there to "hunt bison without firing a shot" by driving them over cliffs, according to the National Park Service.
This included nomadic Tribes like the Lakota, Blackfeet, Crow and Gros Ventre, but also Tribes who spend a lot of time growing their own vegetables and lived in modern-day North Dakota, most notably the Mandan and Hidatsa.
It's those two latter Tribes' hunting and farming practices that inspired this wild rice and bison stuffed squash recipe.
Well-known for their extensive farms, where they grew corn (maize), beans and squash, collectively known as "the three sisters", as well as sunflowers and other crops, the Mandan and Hidatsa were much more sedentary than their nomadic counterparts on the Great Plains.
This recipe features several ingredients that they, too, would have used, albeit perhaps not in the same combination.
From American bison meat to squash, sunflower seeds, sage and dried plums—and perhaps also garlic, onions and wild rice, which they might have gathered or traded from neighboring Tribes—this is an amazing way to use traditional indigenous ingredients together in one recipe inspired by a national park.
Alternatively, if you'd like to focus on the time Theodore Roosevelt lived in what is now his namesake national park, almost all of these ingredients he would've eaten as well, including honey, apples, pears, squash, peppers and bison.
Necessary Kitchen Tools
Disclaimer: The recipe below is based on the bison-stuffed squash recipe created for Butcherbox by food stylist and recipe developer Louiie Victa. I highly recommend checking out their respective websites for many more recipe ideas.
Wild Rice and Bison Stuffed Acorn Squash Ingredients
I'm aware that the list of ingredients for this stuffed squash recipe is rather long. But don't be intimidated.
Although prepping everything does require some time, once you're done, the actual cooking is super-easy. And the result is absolutely worth the time and effort, trust me!
Olive oil
1 cup wild rice
1 ¾ cup chicken broth
2 acorn squashes, stems and tops cut off, halved and seeds removed
1 onion, chopped
1 green bell pepper, chopped
2 celery stalks, sliced thinly
4 garlic cloves, minced
2 cups kale, chopped roughly
2 tablespoons sage, chopped
1 tablespoon thyme, chopped
1/2 tablespoon rosemary, chopped
1/2 apple, diced
1/2 pear, diced
3 dried plums, chopped
2 tablespoon Worcestershire sauce
1 pound ground bison
Sunflower kernels
Liquid wildflower honey
Instructions
After you've finished prepping the ingredients for this Theodore Roosevelt National Park-inspired recipe for acorn squash stuffed with wild rice and bison, it's time to get cooking!
Before you start, I recommend reading through the entire recipe, just so you're aware of each step in the process.
Add wild rice and chicken broth to small pot and bring to a boil. Reduce heat to a simmer, cover and cook until tender, about 45 minutes.
Heat the oven to 375 degrees Fahrenheit. Cover baking sheet with parchment paper.
Drizzle cut sides of squash halves with olive oil and season generously with salt and pepper. Put them cut side down on the parchment paper. Bake until easily pierced with a fork, about 30-35 minutes.
While rice cooks and squash bakes, heat cast-iron pot over medium heat and add a couple of tablespoons of olive oil.
Add the onion, bell pepper, celery and garlic. Cook until softened, stirring regularly, about 5 minutes.
Add the ground bison to the pot, breaking it up with a wooden spoon. Cook, stirring, until well browned, about 10 minutes.
When bison is no longer pink, add the sage, thyme, rosemary and Worcestershire sauce. Combine well.
Stir in the kale and cook until wilted. Season to taste with salt and pepper.
Turn the heat to low and add the diced apple and pear.
Stir in the dried plums and cooked wild rice. Mix thoroughly with a spoon. Taste and add more salt and pepper if necessary.
When squash is fork-tender, remove from oven and turn them over so that the cut sides are up. Change oven from bake to broil.
Drizzle honey over squash and broil for about 5 minutes, allowing the honey to glaze.
Take squash back out of the oven and fill their cavities with the wild rice and bison stuffing.
Garnish with sunflower kernels and drizzle with more honey. Serve right away.
Enjoy!
---
If You Decide to Make This Hearty and Sweet Wild Rice and Bison Stuffed Acorn Squash Recipe at Home, Feel Free to Tell Everyone About It Below! Happy Cooking!
---
Other Meaty National Parks Recipes