Upgrade Your Lunch With This Mouthwatering Pear, Tempeh & Arugula Sandwich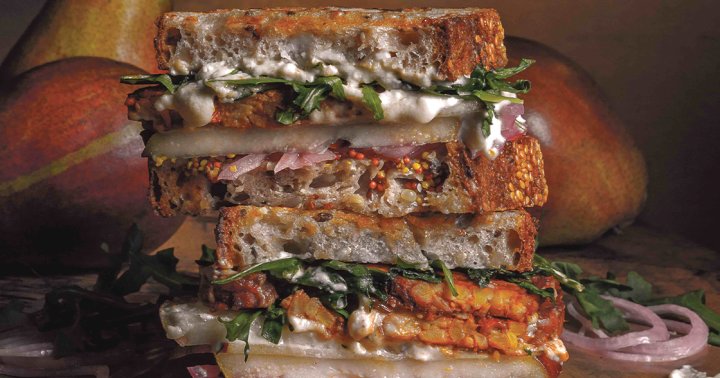 There's a big misconception out there that being vegan automatically makes you a healthier person. But we're here to tell you that it's not that simple. Just because you've cut animal products out of your diet doesn't mean that the foods you're consuming aren't filled with byproducts, fake flavors, and too much sugar. We're also here to tell you that eating less meat, saving the planet, and cooking at home doesn't have to be boring or expensive. Done right, veganism can be a healthier, cheaper, environmentally friendlier, and tastier way to nourish your body.
Brave New Meal, written by the New York Times bestselling authors of the Bad Manners cookbook series, not only brings delicious creativity to vegan eating but also teaches you how to cook with healthy, whole-food ingredients on a budget. The Pear, Tempeh & Arugula Sandwich recipe below is just one of the many drool-worthy dishes from Brave New Meal that make eating vegan not just different but better. For even more next-level recipes, purchase your own copy of the book here.