Sponsored Post: Join Supermicro and IDC at Supercomputing '21 to Learn About the Future of HPC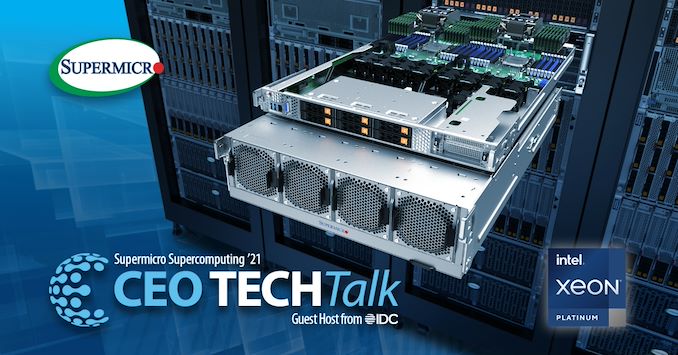 For anyone involved in the world of technology, you know that innovation happens at an extremely fast pace. Today's technology environment is being defined by increasing demands for processing power to drive things like machine learning and artificial intelligence.
These demands will have a profound impact on the future of high-performance computing (HPC) so it's vital that professionals in this space stay up to date on the latest breakthroughs and innovations.
Supermicro, an industry leader in providing powerful computer solutions for the most demanding environments, will be discussing some of the most critical topics and innovations in the HPC space at SC 21 on November 15, 2021.
To prepare for SC 21, Supermicro is also offering two webinars before the event to help ensure you're fully prepared for the event.
On November 9, 2021, Supermicro experts discussed how to overcome power and space challenges in HPC data centers. In the replay, you'll hear about how the advent of high-powered CPUs and GPUs have been driving the requirements for new server systems and pushing the limits of power and cooling requirements of data centers.
They also talked about how solutions built upon the new 3rd Gen Intel® Xeon® Scalable processors can help organizations prepare to meet these challenges. Watch the replay here.
On November 10, 2021, at 10 am PST, Supermicro experts dive into a rack cluster deployment Supermicro built for the San Diego Supercomputing Center (SDSC). Supermicro optimized the system for SDSC's custom and experimental AI training and inferencing workloads while meeting their environmental and TCO requirements.
The team behind the project will discuss the journey of designing and deploying their Rack Plug and Play cluster, and Shawn Strande, Deputy Director, SDSC, will share his experience of partnering with the Supermicro team to solve his challenges in HPC and AI. You can sign up for this webinar now.
Finally, on November 15 beginning at 6 am PST, Supermicro will be digging down into all the latest innovations and bleeding-edge breakthroughs coming to the HPC space in their TechTalks.
First up, Supermicro CEO Charles Liang will talk about the exciting future of HPC and the adoption of accelerated computing technologies.
[embedded content]
The second TechTalk will take a closer look at the latest innovations in High-Density Computing in HPC environments. Supermicro will talk about their new innovative follow-up to their popular X11 system, the X12 Big Twin system based on the new 3rd Gen Intel® Xeon® Scalable processors. You will also learn about how the cooling systems on the 8U SuperBlade® servers allow customers to use higher-performing processors, which is crucial for demanding HPC applications and helps deliver the highest performance density.
Supermicro will also be delivering a session about the advancements in liquid cooling for servers and racks and how data centers can leverage the benefits of liquid cooling. With AI, machine learning, and other high-demand applications placing increasing power demands on HPC environments, liquid cooling can save operating costs and reduce the harmful effects on the environment.
You can't have a conversation about HPC environments without talking about storage. Join Supermicro for a look at some of the latest innovations with high-performance storage solutions.
Finally, don't miss a comprehensive look at how Supermicro delivers rack plug-and-play total IT solutions for HPC organizations.
Needless to say, Supermicro has a lot of great stuff to talk about at SC 21 with a whole range of presentations covering the challenges and latest innovations in the HPC space. You won't want to miss it. Learn more and register here.