Give your gadgets a new life.

At Gadget Salvation, our mission is to contribute to the electronics reselling market as much as possible so that we extend the life of our gadgets and diminish waste. Our process is simple and seamless.
Answer a few questions and get an estimate.
Ship your gadget for free.
Get paid within two business days of our receiving your gadgets.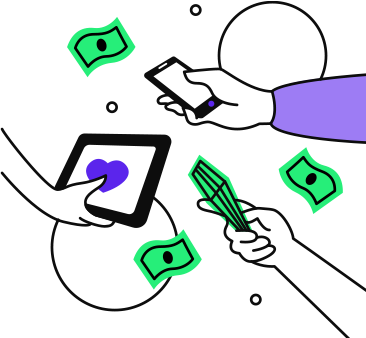 Whether you are selling your MacBook Pro for cash, trading it in, or donating, there are a few things to do first.
Are you tempted to upgrade your Apple laptop to the latest Apple M1 chip technology? The manufacturer claims that its ARM-based M1 processor offers superior performance compared to Intel, making it the fastest processor available on the market today. Besides, Apple installed the M1 processor on their most recent MacBook Pro and MacBook Air laptop models. Not sure which is a better fit for you? Our 2020 MacBook Air vs. MacBook Pro post can help you make an informed decision.
Meanwhile, what to do with your older Mac? If you took good care of your laptop and it is not too old, you could still resell it for some extra cash. So let's figure out the resale value of your preowned MacBook Pro together.
Know Your MacBook Pro Model
As long as your laptop still works and boots up, the easiest way to check the model is to click on the Apple menu in the top left corner of your screen and click on About This Mac. And if you still have the original box, this same information should be printed on the back. Lastly, you can look up your laptop's serial number on the bottom cover of your computer. The serial number can help you narrow down the year make, processor type, and such via the Checkout Coverage page. With this info, you can easily calculate the resale price of your used MacBook Pro.
Back Up Your Data
Having your files saved on the cloud or external hard drive is always a good practice. For example, if anything goes wrong with your MacBook Pro hard drive, you can always recover lost data from the most recent backup. The same goes for selling: you may want to store your files to transfer them on your brand-new upgrade.
To backup your MacBook Pro using iCloud:
Go to Apple Menu > System Preferences > Apple ID. If you are using macOS Mojave or earlier, clicking on Apple ID is not necessary.
Sign in with your Apple ID if you need to.
Then, select iCloud Drive and add the files from your MacBook Pro to the iCloud Drive.
Alternatively, you can use the built-in backup feature of your Mac called Time Machine. It allows you to automatically back up your data, including documents, photos, apps, and even emails. The Time Machine app immediately starts to generate automatic backups without any involvement on your part.
To create a backup with Time Machine, you need an external storage device with a USB or Thunderbolt connector. Connect the drive and select it as your backup disk:
Apple Menu > System Preferences > Time Machine.
Click Select Backup Disk.
Sign Out All Your Accounts
After creating your last backup, the next thing to do is remove everything from the computer you are selling. Start by turning off Find My Mac. For that, go to System Preferences > Apple ID > iCloud and uncheck Find My Mac. Then, sign out of your iCloud, iMessage, iTunes, and other apps you access with Apple ID.
Perform MacBook Internet Recovery
Since you intend to sell your MackBook Pro for cash, you must first restore it to factory settings. To do that, power down your MacBook Pro, then turn it back on while holding down Command and R keys together.
Factory Reset
Command and R keys combo should take you into the Internet recovery mode. Performing system recovery will erase everything from your Mac so that the new owner can configure it accordingly. Please see our How to factory reset an Apple laptop blog post for more information on resetting an Apple computer step by step.
Unpair Your Bluetooth Devices
To unpair any connected Bluetooth devices, go into System Preferences > Bluetooth > Select the device you want to unpair and click on the X icon right next to it for further removal.
Properly Clean Your Laptop
Thoroughly clean outer surfaces if you are looking for the highest cash payout. Trust us, no one wants to deal with a dirty and stained MacBook Pro. You can use a soft lint-free fabric cloth with some mild electronics cleaning solution or even some Windex to clean it up. Stay away from any abrasive cleaners and 90% isopropyl alcohol: both are too harsh and can damage the surface. Also, do not use water to avoid liquid damage.
A 70% isopropyl alcohol solution (IPA) works well for removing smudges, stains, and fingerprints.
Miscellaneous
Please don't forget to locate all of the original accessories that came with your MacBook Pro. This includes the power adapter, cord, manuals, and even the box if you still have it. While most resale platforms do not offer extra cash for the charger, there is usually a deduction if it is missing.
Sell MacBook Pro for Cash at Gadget Salvation
There are many options for reselling preowned technology online. Still, if you look for an upfront dollar estimate and a quick turnaround, we at Gadget Salvation can and will accommodate. Since 2008, we have bought countless electronic devices, including used MacBook Pro laptops. Our mission is to extend the lifespan of a gadget for as long as possible, diminishing e-waste.
To sell your MacBook Pro laptop on our site:
Look up your model in our online database, describe it using our online drop-down menu tool, and calculate the offer.
Submit a sale order online and receive a prepaid shipping label to send the MacBook Pro in.
Wait for your payment. Payouts are issued within two business days of us receiving and inspecting your preowned Apple MacBook Pro laptop via the payment processor of your choosing. Currently, we pay by a company check, Zelle, PayPal, and Venmo.
For more details on the whole process, please see our How it Works page.
Bottom Line
Whether you sell your MacBook Pro for cash, trade it in, or gift it to someone, it is crucial to prepare it first. You want to get rid of your data and accounts to prevent the possibility of unauthorized access. Besides, iCloud locked Macs cannot be resold, so you have to do it beforehand. Clean up your laptop, locate the charger, research prices and pick the selling platform you are most comfortable with. Apple Trade-in, OfferUp, and sites like Gadget Salvation are all great options that can help you get rid of your unwanted Mac and score some value in exchange!
<!–
–>

Give your gadgets a new life
At Gadget Salvation, our mission is to contribute to the electronics reselling market as much as possible so that we extend the life of our gadgets and diminish waste. Our process is simple and seamless.
Answer a few questions and get an estimate.
Ship your gadget for free.
Get paid within two business days of our receiving your gadget.