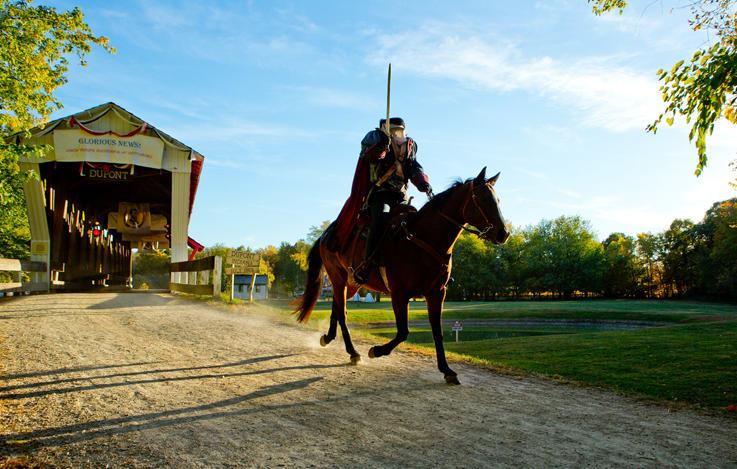 Headless Horseman at Conner Prairie in Fishers, Indiana is a popular fall tradition for many families. The festival will take place in 2021. Read below to learn more about Headless Horseman.
When is Headless Horseman 2021?
For 2021, the Headless Horseman festival at Conner Prairie is Oct. 7-10, 14-17, 21-24 and 28-30. Admission gates open at 6 p.m. and close at 9:30 p.m. Activities continue for attendees inside the gates until 10 p.m. Depending on the crowd waiting in line with hayride tickets, hayrides may extend past 10 p.m.
How much does it cost to attend?
Tickets go on sale to the general public Sept. 15.
On Thursday and Sunday nights, admission is $17. All members get in free, but reservations are still required.
On Friday and Saturday nights, admission is $2. Plus-level and above members get in free, but reservations are still required.
Advance tickets must be purchased/reserved online. Gate tickets sales will not be available.
Parking is free on-site.
What are the COVID-19 safety precautions?
Stay tuned for 2021 updates.
What are the activities at Headless Horseman?
Families can enjoy the classic haunted wagon ride through the Conner Prairie grounds. There is also a barrel-train ride for ages 7 and under, a tubing hill, marionette and theatrical show, fortune telling booth, magic show, mad science show, spooky storytelling and Midway games.
Don't miss this year's corn maze, included in Headless Horseman admission, which features three paths: a kids' maze for younger guests, a puzzle maze that's perfect for families, and a haunted maze inspired by ghost stories from the region.
The 1859 Balloon Voyage will fly, weather permitting. Balloon passes are an additional cost.
How can I purchase tickets?
Visit Conner Prairie's website to reserve or purchase tickets and read more FAQs.
Don't forget to follow us on Facebook, Twitter and Instagram for more fall fun in Hamilton County, Indiana.