Realme Watch 2 Pro Review Summary
Expert Rating: 3.5/5
Design and Build
Display and UI
Performance and Power
Pros
Light and modest wear
IP68 dust and water resistance
Bright, Colorful and responsive touch display
Continuous Heart rate tracking
90 Sports Modes
Built-in GPS
Long battery life
A nifty companion app
Cons
Noticeable bezels
Inconsistent SpO2 tracking
No full-on calling or message reply functionality
Proprietary charger is one more thing to carry around
Realme Watch 2 Pro had launched a few weeks back alongside a group of other products. It comes in a familiar yellow package on which its highlight features like dual satellite GPS, 90 sports modes, 14-days of claimed battery life, 100+ watch faces, a 4.4 cm color display, and support for Realme Link app are imprinted. The long size of the box while kept standing on a table looks domineering. We will see if it really dominates the watch options available under 5000 rupees.
Anyways, here's what you get inside the box —
Realme Watch 2 Pro Unboxing
Box contents are:
Watch
Charging base
User Manual
ALSO READ
Contents
---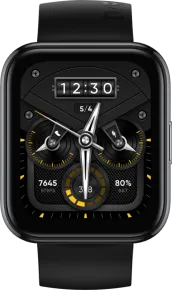 Screen: 1.75″ 320×385 resolution, 600 nits, 30Hz refresh rate, touchscreen
Colors: Space Grey / Metallic Silver
Body: Polycarbonate Chassis with Silicone rubber strap
Dimensions and Weight: 255.238.912.65mm(with wrist strap) and 40g(with wrist strap)
Water resistance: IP68
Sensors: Heart Rate Sensor, 3-axis Accelerometer
Processor: RTOS
Battery: 390 mAh with Magnetic 2-pins Pogo Pin
Realme Watch 2 Pro Price: INR 5000
---
As you see it is currently available at around Rs. 5,000 through Amazon and other major stores. If your budget falls in this range, should you go for the Watch 2 Pro or not? We'll find an answer to this here.
So let's begin. This is the Smartprix review of the Realme Watch 2 Pro.
Beginning with —
Realme Watch 2 Pro Design and Build
Realme sticks to the squircle design which is now more of a rule than exception in the smartwatch space. I personally prefer a round dial but don't mind this one either. The plastic chassis plus rubber strap is light at mere 40 grams and looks very neat. I mean its demeanor and not that it doesn't get smudgy. Wear it for long in the humid weather of Delhi and it could get a bit sweaty underneath. But mostly it has a clean-cut appearance.
The squarish screen is surrounded by black bezels. This connects to a lustry frame on which resides a button with yellow accent. It is clicky and can perform these functions –
Press once to wake the watch, pause or resume workout, return to the previous screen in an app, and turn off the screen at home screen.
Press and Hold to power on, off or restart. Do the same for 15 seconds and the watch will force restart.
Unlike their branding on phones, I found the DARE TO LEAP print cool. It sort of gives the bland bands a character. If you don't like it, you can easily release it and replace with any other bands you have or bought from the market. Lastly on the design front, I and I am sure everybody would value the IP68 rating for dust and water resistance. Even the Corning Gorilla Glass 3 protection on the display. So, it's mostly good here.
That brings us to —
Note: The images of the watch in the article are shot on an iPhone 11. The actual screen visuals appear better in person.
Realme Watch 2 Pro Display and Pairing
The square-esque display stretches 1.75-inch with 320 X 385-pixel resolution. It is LCD and plenty good for a watch of this budget. Still, AMOLED levels of contrast and colors would have been better. Anyways, both indoor and outdoor legibility (at 600 nits) was fine. No complaints against touch response (30 FPS) either. You can do the following —
On the homescreen, swipe down to see notifications, swipe up to browse apps, swipe left to see widgets, swipe right to expand quick settings, press and hold to change the watch faces.
Speaking of which, you get to choose between 100+ watch faces. The download, sync, and application process is quick.
Which brings me to a thing I left to mention – Pairing. Here's a quick guide on how to pair the Realme Watch 2 Pro with your smartphone —
Ensure you have the Realme Link app installed as everything from pairing to customizing various aspects of the user experience lies within the said program. It is available on both Android and iOS stores.
Open the Realme Link app, and press the Plus symbol on the top right corner. It will scan through Bluetooth and choose when Watch 2 Pro appears. Else, scan the QR code on the watch screen to tether both devices.
Anyways, on to what's inside (possibly RTOS) —
Realme Watch 2 Pro Performance
Jumping straight to the fitness features. There are 90 sports modes on the Realme Watch 2 Pro. So, most things (but swimming) should be included in this list. Some activities benefit from GPS navigation too. You can arrange the order of these workouts as you prefer within the Realme Link app which then gets reflected in the watch UI. This app plays a key role in the working of this device and brand's other AiOT products. You can control other Realme Smart appliances and accessories like Realme Buds Wireless 2 (review) and Realme Buds Q2 (review) I was using alongside.
Like most other wearable of its ilk, the Watch 2 to also comes with health checkups like automatic heart rate tracking, 24-hour heart rate logs (resting and while exercising at 5-min intervals), alerts if some abnormality is detected, SpO2 measurement, sleep analysis, steps counter along with calculators for calories, distance, and other activity parameters. You can even set reminders for drinking water and inactivity for long periods. All much appreciated. But use the data collected as profiles to note and improve your physical health/fitness routines. The blood oxygen results were not in align with what I was getting from an actual SpO2 reader. My sleep timings were properly recorded but can't vouch for their accuracy. Also, don't expect it to recognize you are on your power nap.
You can view this and other data in a graphical presentation within the watch and the Realme Link app.
When it comes to other 'Smart' features, you have stuff like music playback control, remote camera shutter, find your phone signals, weather data, notification sync, and a bunch of timepiece goodies.You can't respond to the messages. Calls can only be silenced or cut. Also, initially, I did find certain notifications a little delayed. Gladly such niggles can and were easily sorted with software updates.
As for the battery, I wasn't bothered much to charge the thing often which was a good sign. The 390mAh cell which claims to run for two weeks was clocking a week and few days. Satisfactory? Indeed. Alas when it seek top-up, the proprietary charging base would be one more thing you must have with you.
And at last —
Verdict: Should you buy Realme Watch 2 Pro?
This Realme Watch had to do few things right to be a top contender in the various sub-5K watch listicles. And it has done just that with a comfy and comely wearable, a fairly legible and responsive touchscreen, lots of watch faces to try, elegant and user friendly UI, long-lasting battery endurance, and decent levels of reliability in health and fitness measurements. The accompanying Realme Link app is very handy and well-designed, I must add. The presence of GPS as well as IP68 and Gorilla Glass shield for durability are good to have too.
What's not good or differently put, could have been better are the bezel size, SpO2 accuracy, a more convenient charging solution, and an enhanced call and messaging system. But considering the price tag, I won't go hard on Realme.
So at ₹5,000, you can definitely consider the Realme Watch 2 Pro. It is listed on the company's online store as well other premier retailers.
Reasons to buy
Light and modest wear
IP68 dust and water resistance
Bright, Colorful and responsive touch display
Continuous Heart rate tracking
90 Sports Modes
Built-in GPS
Long battery life
A nifty companion app
Reasons to not buy
Noticeable bezels
Inconsistent SpO2 tracking
No full-on calling or message reply functionality
Proprietary charger is one more thing to carry around
Related