Asus Chromebook C523NA Review: If you feel Chrome Oh Yes!
Asus Chromebook C523NA Review Summary:
Expert Rating: 3/5
Design
Audiovisual
Keyboard
Performance
Battery
Pros
Portable
Large touchscreen
Cross platform interoperability with Android
Linux Support
Simple UI
Long Battery Life
USB-C Charging
Acceptable port selection
Cons
Lingering sluggishness
Not for intensive tasks
A few weeks back, Asus launched six new Chromebooks in the country. Off the lot, today we are having the Chromebook model number C523NA-A20303 with us. This has got a touchscreen panel, Chrome OS software, and all its cloud-based utilities within a simple hardware profile. On the box, it carries a price tag of ₹24,999. So, if you are out to buy a new affordable laptop for school, should you buy this Chromebook? We will find out an answer to that in the following paragraphs and have a verdict by the end.
This is the Smartprix review of Asus Chromebook C523NA (15.6-inch touchscreen variant).
But first, the box contents and the specifications you need to know —
Asus Chromebook C523NA Unboxing
The Chromebook C523NA comes in a cardboard box. Unpack it and here's everything you'll find:
The Chromebook
Charger and Cord
Guide booklets
Also Read:
Contents
---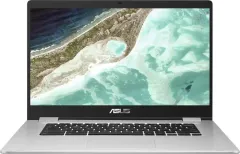 Dimensions and Weight: 35.80 x 24.80 x 1.61mm; 1.6KG
Display: Touch screen,15.6-inch, Backlit LCD panel, 16:9 Full-FHD (1920 x 1080) , LED Backlit, 200nits,NTSC: 45%,Screen-to-body ratio 80 %
Processor: Intel Celeron N3350 Processor 1.1 GHz (2M Cache, up to 2.4 GHz, 2 cores)
Graphics: Intel HD Graphics 500
RAM: 4GB LPDDR4x onboard
Storage: 64GB eMMC; Expandable storage – Micro SD (up to 2TB)
Keyboard and Touchpad: Edge-to-edge Chiclet Keyboard
1.5mm Key-travel, Multi-touch touchpad
Webcam: 720p HD camera
Audio: Built-in Stereo loudspeakers, microphone with Google Assistant voice-recognition support
Ports: 2x USB 3.2 Gen 1 Type-A, 2x USB 3.2 Gen 1 Type-C support display / power delivery, 1x 3.5mm Combo Audio Jack, Micro SD card reader
Wireless connectivity: Dual-band WiFi, Bluetooth 4
Operating system: Chrome OS
Battery: 2-cell 38WHr; USB Type-C, 45W AC Adapter
Security: Titan C Security Chip
Asus Chromebook C523NA Price in India: ₹24,999
---
Let's get going.
Asus Chromebook C523NA Design
Chromebook C523NA comes in silver color with just the logo of Chrome and Asus on the top. It has got a smooth powdery texture, which feels good to touch. The laptop weighs 1.6 Kgs which is light enough to carry around inside or outside the house.
Due to the weight imbalance between the top and bottom half, you can't easily open it single-handedly. The hinge can recline up to 180 degrees with a decent amount of tension.
Inside there's the display and keyboard (to be discussed later on).
By the left side, there is a USB-C port (charging supported), LED indicator, micro-SD card reader, a 3.5mm jack, and a USB-A port. On the other side, there is yet again a USB-C socket and a USB-A port. This is a fine array of ports. Wirelessly, WiFi (albeit dual-band) and Bluetooth are not the latest standards.
Anyway, by the base, there are metallic and rubber nubs, and a speaker grille. To be discussed in the next section —
Asus Chromebook C523NA Audiovisual
The 15.6-inch display is engulfed by thick black bezels, especially at the top and the bottom. These borders are glossy as you can see in the image above. Not a problem, unless you are taking a shot like this for some reason. Anyways, the panel is LCD with FHD resolution, a 16:9 aspect ratio, 80% Screen-to-body ratio, support for 45% NTSC color gamut, and 200nits of brightness. The lattermost aspect might impact viewability outdoors. Speaking of which, the viewing angles are limited.
Indoors, the screen is okay for viewing spreadsheets, docs, slides, Googling stuff, browsing e-commerce sites, read and research through Wikipedia and casually watching YouTube videos. But, it isn't for immersing in the content on Netflix or Amazon. Well, you can…but, it won't be ideal always. I watched Helen (2019, Prime Video) and it was quite pleasant. Also, touch capability might come in handy in some of the above use cases.
The sound from the speaker outlets is fairly audible too. You can plug in the headphone if you want to focus better.
As for the HD Webcam on top, let's just say, it's there if you need it. There isn't much to talk about the quality. I didn't mind the mic quality though.
Moving downwards…
Asus Chromebook C523NA Keyboard
Asus has decked the Chromebook 15 with a ten-key-less keyboard and a multi-touch pad. The latter is responsive enough. The keys are well accessible too from the palm rest area. My fingers were moving fast too. But, the presses make a rattling sound, which is a bit annoying.
If you are new to a Chromebook, the key layout and combinations require some practice. In time, you will get a hang of it. The top line of keys acts as quick triggers for various actions like volume control, brightness, reloading the page, launching the recent menu, etc.
Well, as you must have noticed by now, there are no biometric solutions on board. So, each time you log in, you have to either type your account password Or better, unlock the connected Android phone to sign in to the Chromebook.
And once you are inside, here's what you find —
Asus Chromebook C523NA Performance
At the heart, there is an Intel Celeron N3350 CPU that's clocked at 1.1 GHz. This is coupled with Intel HD Graphics 500, 4GB LPDDR4 soldered to the board, and 64GB of eMMC storage (that can be further expanded up to 2TB using a micro-SD card.
That hardware might not seem big when compared to Windows machines and most smartphones these days. But, Chrome OS doesn't need a lot of processing power anyway. That said, more resources aren't ever a bad thing. I say so because I did notice a lingering sluggishness during the course of my usage. The boot times weren't fast enough. The shelf's responsiveness wasn't smooth either.
Here are some synthetic tests I ran on it —
| | |
| --- | --- |
| Asus Chromebook 15 C532NA Benchmark | Scores |
| Speedometer 2.0 | 18.3 runs/min |
| Androbench Sequential Read | Write | 123.18 MB/s | 37.32 MB/s |
| Androbench Random Read | Write | 27.6 MB/s | 11.39 MB/s |
| Geekbench 5 Single-Core | Multi-core (CPU) | 270 MB/s | 514 MB/s |
| PCMark 10 (Modern Office) | 5073 |
As you see I did run some benchmarks that are from the Android realm. That is because of the similarities in the platform, software-wise that is.
To point out some of my favorites about this OS:
If you stick to browsing Chrome, the experience would be alright.
You get access to Google suite apps like Gmail, Calendar, Drive, Docs, Sheets even when you are offline. And while you are online, all your Google app and Chrome data is synced in real-time.
Then there's a host of apps on the Play Store and Linux Virtual Machine. I don't use linux myself, but if you use, there you have it. As for the Android ones, some work, some don't even with touch availability. You may also try CrossOver for running legacy Windows applications.
Google Assistant is quick to pop and show results upon a Hey/OK GOOGL trigger.
The system updates and backup takes place in the background without interrupting your activities. The way it should be.
Security goodies like sandboxes for each web page and application instance, boot-time check of system integrity, and Powerwash reset option which gets the job done quickly.
And Chrome Flags bring in certain experimental features to the fore.
One area where it falters badly is gaming. I tried running BGMI and Asphalt 9. Don't bother.
Asus Chromebook C523NA Battery
Coming to battery life, in the Crosh test, this Asus Chromebook was clocking 11 hours 26 minutes. The PCMark battery test scored 6 hours 4 minutes. Practically, I was easily getting my 8-9 Hour workday. The bundled 45W charger doesn't take too long to fill the tank. So, that's also a good thing.
And finally, let's see if the Chromebook 15 C523NA is worth your money?
Review Verdict: Should You Buy Asus Chromebook C523NA?
While looking for a laptop under the ₹30,000 price bracket, you'd find most current options are running on entry-level hardware only. So, it's a given that you must temper your expectations. And while narrowing down your choices, you would be left with a versatile but demanding Windows operating system and a Chromebook which is neither of those two things.
So, you just have to ask yourself if your primary computer needs can be done on the Chrome platform. If yes, here on the Chromebook C523NA, you get to enjoy a touch-based interaction, good battery life, acceptable port selection, a simple user interface, Android cross operability, and Linux support. The said Chrome-OS benefits are definitely good to have but there's a lingering sluggishness and some compatibility issues. There are hardware and software limitations, but as I said before, you just have to look past them at this price. It is retailing via Flipkart at ₹24,999. Finally, before you make any decision, do take a look at the following columns —
Reasons to buy
Portable
Large touchscreen
Cross platform interoperability with Android
Linux Support
Simple UI
Long Battery Life
USB-C Charging
Acceptable port selection
Reasons to not buy
Lingering sluggishness
Not for intensive tasks
Related