Winter school holiday fun in Cape Town
The mid-year school holidays in Cape Town can be tough if you don't have a plan. But don't worry there's plenty to do to keep the young ones entertained. The winter school holidays have just been extended as South Africa's level 4 lockdown continues. Children are expected back at school on Monday, 26 July 2021.
We round up the best indoor and outdoor – for those non-rainy days – activities if you're looking for things to do outside of the house this winter.
*Please adhere to COVID-19 protocols at all places and stay safe.
Away from home
Spier Hotel Winter deals
Treat yourself and your family to a wholesome country experience at Spier Hotel in the Stellenbosch Winelands. With family-friendly dining options, plenty of open spaces for kids to explore, and activities such as family biking and Eagle Encounters, everyone can enjoy a great holiday close to home. Spier offers a daily winter holiday programme of fun-filled, age-appropriate activities, including arts and crafts, storytelling and farm walks for children between the ages of 3 and 12 years. The winter holiday programme is ideal for working parents who want to get away but still need time and space to be productive.
Website: https://www.spier.co.za/hotel/
Indoor activities
PlayDate Superpark
Energetic and adventurous children will love PlayDate Superpark at the Watershed at the V&A Waterfront. The indoor activity park boasts a triple story 450 square metre 3-dimensional maze, two Submarine Escape Rooms, an extreme high line ropes course, and a kiddies mini maze and is fun for all ages. There's amazing food and coffee available for those who don't want to join in on the fun.
Website: https://www.waterfront.co.za/attractions/playdate-super-park/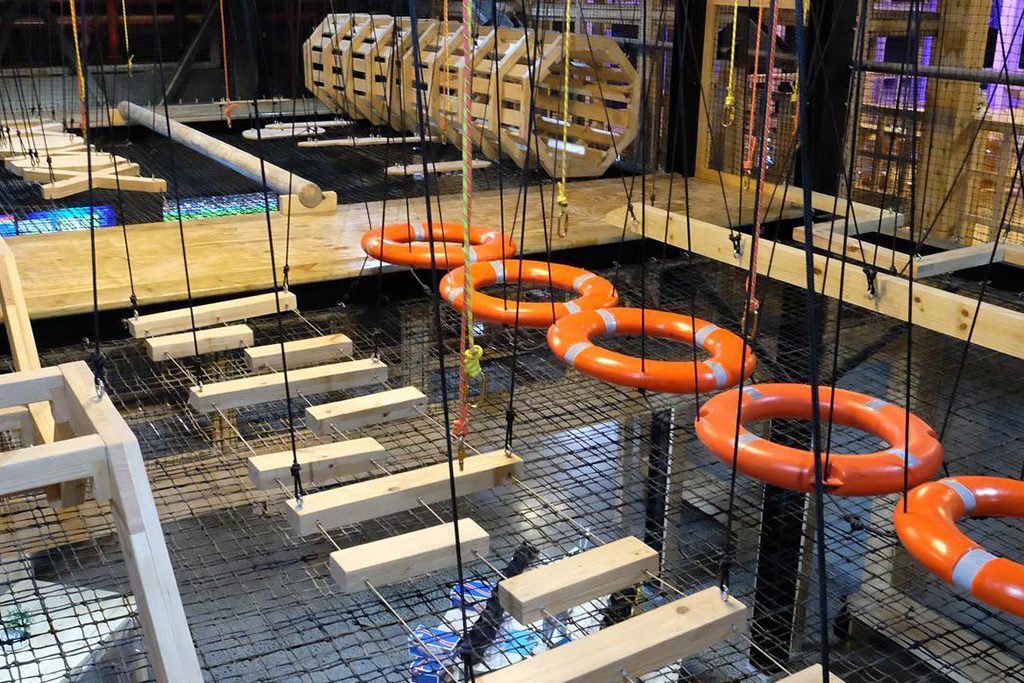 Rush
Exciting challenges and heaps of fun await at Rush in Claremont. Take your children to this indoor trampoline park for some extreme jumping! Rush is for adults too so parents can join in on the fun, or have a coffee and cake while waiting for the young ones. Rates start at R130 per child and R150 for adults.On Sundays it's R150 per person from 16:30 – 18:30.
Website: https://www.rushsa.co.za/
Outdoor fun
Acrobranch
Cape Town has plenty of dry winter days, perfect for outdoor escapades, making Acrobranch a perfect place for children with an adventurous spirit. There are 18 obstacle courses for kids aged 3-6 that will test their balance and capabilities in a safe setting. All courses have been designed with specific ages in mind so there's an obstacle course each child can enjoy. Prices start from R150.
Website: https://acrobranch.co.za/outdoor-activity-parks/cape-town-constantia/
Explore Cape Town with UpCycles
Take the family to Sea Point and explore the Promenade by bicycle on a sunny winter's day. The Promenade is a safe place to ride a bicycle as it's flat, wide and there are no cars to worry about, plus there is plenty to see and do along the way. Stop at the giant sunglasses for a family photo with a unique backdrop or stop at the food trucks for a snack as the kids are sure to get hungry. UpCycles caters to everyone in the family – they have bikes for adults and children and even have child seats and carriages for toddlers.
Website: http://upcycles.co.za/