Planning Your Two Day Adventure on the Chain of Lakes Water Trail
Photo: Pure Michigan
The Chain of Lakes Water Trail is a 100+ mile water trail that spans four counties: Charlevoix, Antrim, Grand Traverse, and Kalkaska. Best suited for day trips, the water trail has experiences appropriate for all paddling levels from beginner to advanced.The small lakes and meandering rivers in the Upper Chain are great for beginners or anyone who loves a peaceful paddle filled with rare wildlife. Hit the Lower Chain to experience the beautiful and unique Grass River and larger lakes like Torch and Elk Lake. These larger lakes prove to be much more of a challenge and are great for advanced paddlers.
Regardless of your experience level or the route you choose, be sure to take time to enjoy one or more of the quaint lakeside villages located along the water trail. Ellsworth, Central Lake, Bellaire and Elk Rapids all have wonderful dining, retail stores, outfitters, lodging, outdoor recreation and more. Paddlers are sure to find an off-water activity to fill their evening and leave them recharged for another day on the water.
Get started on your planning with our guide below.
Get Your Hands on the Right Planning Resources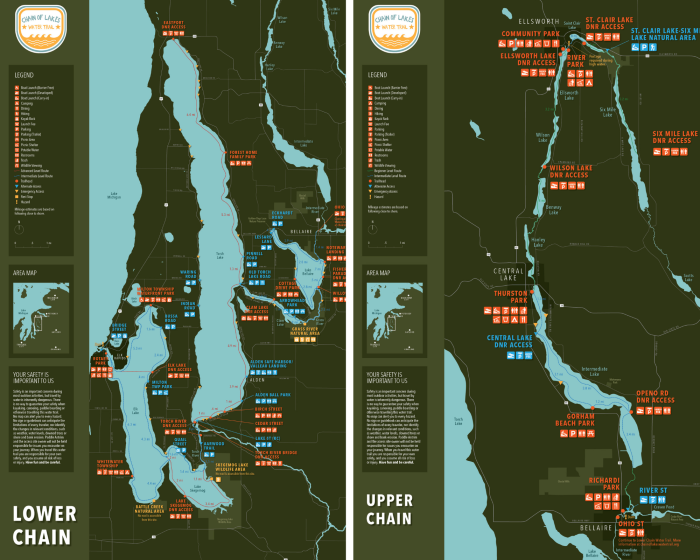 Paddle Antrim has created a 30 page waterproof Chain of Lakes Paddler's Guide which includes a map of the entire water trail and suggest routes based on experience level. It also includes great information on safety, stewardship and etiquette. You can get your copy at a local retailer found in each of the four lakeside villages or buy one online.
Download the Chain of Lakes Water Trail Avenza Map to your smartphone. Paddle Antrim has made this map free to users and it's an excellent on-water resource. It tracks your location (even without signal) on the map so you know where you are and how far you are from your next access site. It's also a great safety resource in case you get into trouble. The app gives you your GPS coordinates, so you can share it with others in case of an emergency. Get the map.
To help paddlers locate some of the more remote access sites, Paddle Antrim plotted out all the access sites and suggested routes on michiganwatertrails.org. Click on the access site you would like to visit, and you can see a photo of the site, amenities, and get google directions. View the Chain of Lakes Water Trail on the Michigan Water Trails website.
Determine Your Paddling Skill Level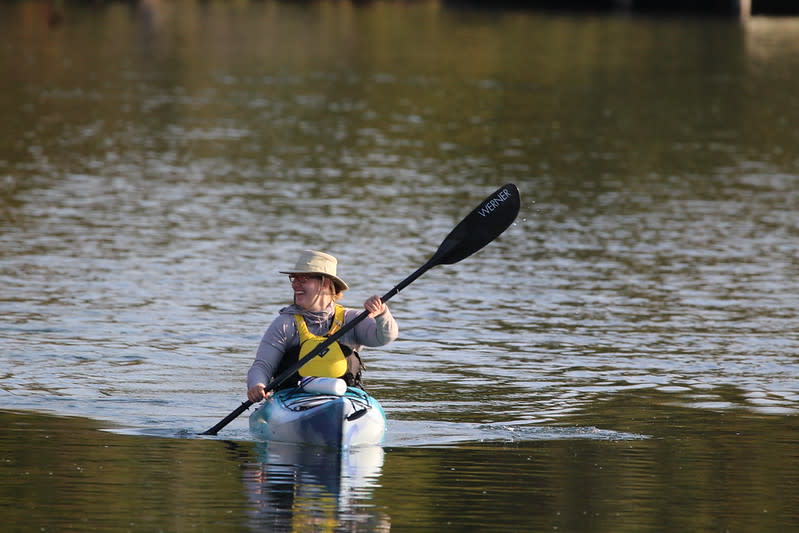 Paddle Antrim categorizes routes based on skill level. To choose your route, you will first want to identify what kind of paddle you are looking for, always ensuring that everyone in your group is prepared for the route chosen. This recommended skill level is based on the Michigan Department of Natural Resources Water Trail Handbook (2018).
Beginner – Routes with minimum hazards suitable for new paddlers with new to basic skills. These routes are in small inland lakes with little or no current, no portages required, and normally limited waves. Access sites are typically every 3-4 miles.
Intermediate – Routes suitable for paddlers with some boat control skills, self-recovery skills and stamina. Paddlers should have the expectation of moderate waves when windy. Portages may be required. Access sites are typically every 3-8 miles.
Advanced – Routes suitable with paddlers whose skills include advanced paddling, self-rescue, risk management, navigation, and stamina. Routes may include open water crossings and areas where landing is dangerous due to shoreline conditions. There is potential for high waves from wind and encountering motorized boat traffic. Portages may be required. Access sites may be up to twelve miles apart, with only emergency access sites and rest stops available within those twelve miles.
Select Your Route(s)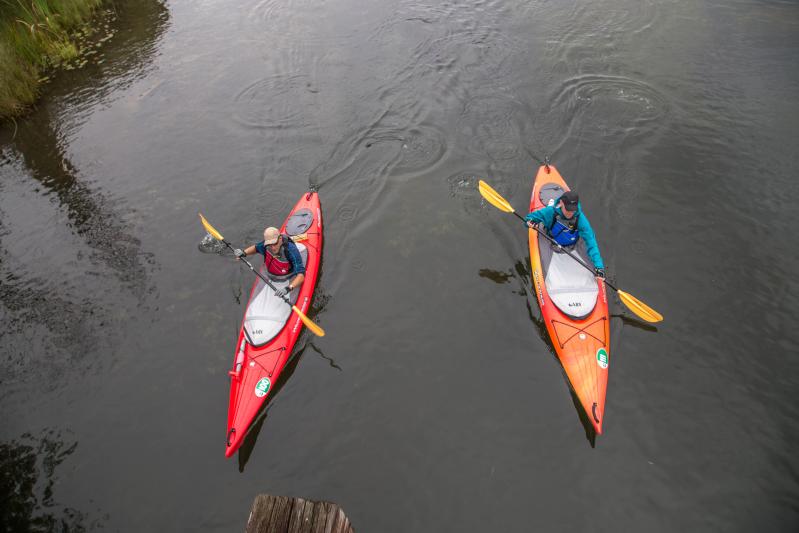 Now that you know what skill level routes you are looking for, it's time to select your routes.
Here are few Paddle Antrim favorite routes for beginners or anyone looking for a relaxing experience on the water trail:
Ellsworth to Central Lake. Begin in the Village of Ellsworth at River Park and make your way through Wilson, Benway, and Hanley Lakes ending in Central Lake at Thurston Park . These access sites are both trailheads which means there is parking, and you have access to restrooms. If you need a rest stop along the way, Wilson Lake DNR Access is a great half-way spot to use the restroom and have a quick snack before jumping back into your paddle craft. Both Ellsworth and Central Lake have great waterside camping options – Wooden Shoe Campground and Thurston Park Campground, respectively.
Intermediate River Out and Back. Start and finish at Richardi Park Trailhead in Bellaire. This is an out and back trip with the option to go a little further into Intermediate Lake along the eastern shore once you finish the river potion. This route offers beautiful scenery and wildlife with minimal boat traffic. There are sections where you feel like you are in the middle of nowhere and the entrance into Intermediate Lake provides a stunning view. Richardi Park has all the amenities a paddler needs; restrooms, potable water, a covered picnic area, swimming area, and more. It's also a short walk or drive into the Village of Bellaire which is home to Short's Brewing Company.
These are just a few thought starters but with 100+ miles of paddling, there are nearly endless options. Paddlers can find a list of routes based on experience here.
Secure Rental Equipment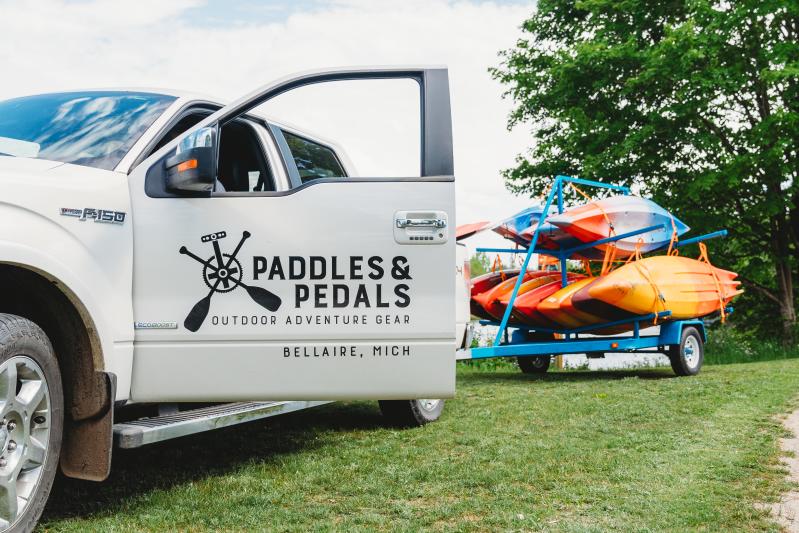 Photo: Pure Michigan
Don't have your own paddle craft? No problem – whether you want to purchase or rent, there are many options throughout the region and Paddle Antrim has compiled them for you to make it easy to find what you are looking for in the area you are looking to paddle. You can find all that information here.
Be Safe and Brush up on Paddling Etiquette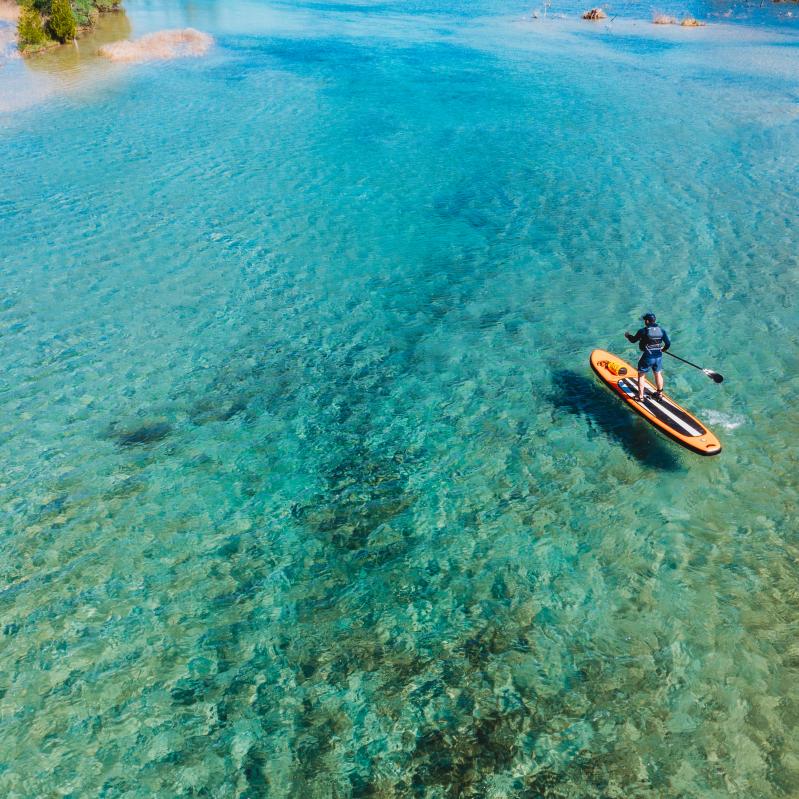 Photo: Pure Michigan
Paddle Antrim takes safety and etiquette very seriously and you should as well. As a paddler, you are representing the paddling community, lead by example and others will follow. Here are just a few important safety and etiquette points and you can find more information on our website.
Always wear your life jacket – Adjust so it is snug and doesn't lift up when pulled by shoulders.
Carry the essentials – This includes a signaling device (whistle) on your life jacket, communication device (VHF radio, cell phone, Personal Locator Beacon), first aid/safety equipment, extra clothing, and water/snacks.
Know your limits – Be prepared for the unexpected. If you don't feel comfortable, return to shore.
Plan for changing weather conditions – Be aware of the horizon and changing wind speed/direction. If the weather worsens, get off the water right away.
Dress for immersion – Dress for the water temperature. Temperatures below 70⁰F are considered cold, wearing a wetsuit or drysuit will keep you warmer. Always avoid cotton.
Dress for visibility – Choose bright colors so others can see you. Carry a light if heading out early or late in the day.
Share your plan – Tell a friend where and when you will paddle and what to do if you don't check in as scheduled.
Help others – Provide whatever assistance you are qualified to give to others who are in trouble or injured or help them obtain further assistance.
Take a paddling class. Paddle Antrim offers classes, or you can find an instructor near you through the American Canoe Association.
Share the waterways – be respectful of other paddlers, boaters, and anglers
Leave nature as you found it – Take your trash and any other litter you may find.
Stay on the trail – Stay on established trails and use existing launches to reduce erosion.
Look out for loons – Avoid active nests and young chicks on the water. Observe from "binocular range" as close encounters can cause adults to abandon their nest.
Stop the spread of aquatic invasive species – Clean, drain, and dry your boat and gear after every trip.
Paddle Antrim hosts the Chain of Lakes Water Trail and they have created a website dedicated to helping you plan your best trip on the water trail. You can find all the information you need and more at www.chainoflakeswatertrail.org. Paddle Antrim also hosts events throughout the paddling season such as community paddles, kayaking safety classes for adults and kids, and the two-day Paddle Antrim Festival. You can learn more about these at www.paddleantrim.com.
A trip on the Chain of Lakes Water Trail is sure to be a paddling season highlight, and Paddle Antrim wants to be a part of your adventure. Share your paddling experiences with us by tagging @paddlean and using the #chainoflakeswatertrail hashtag on Facebook and Instagram.