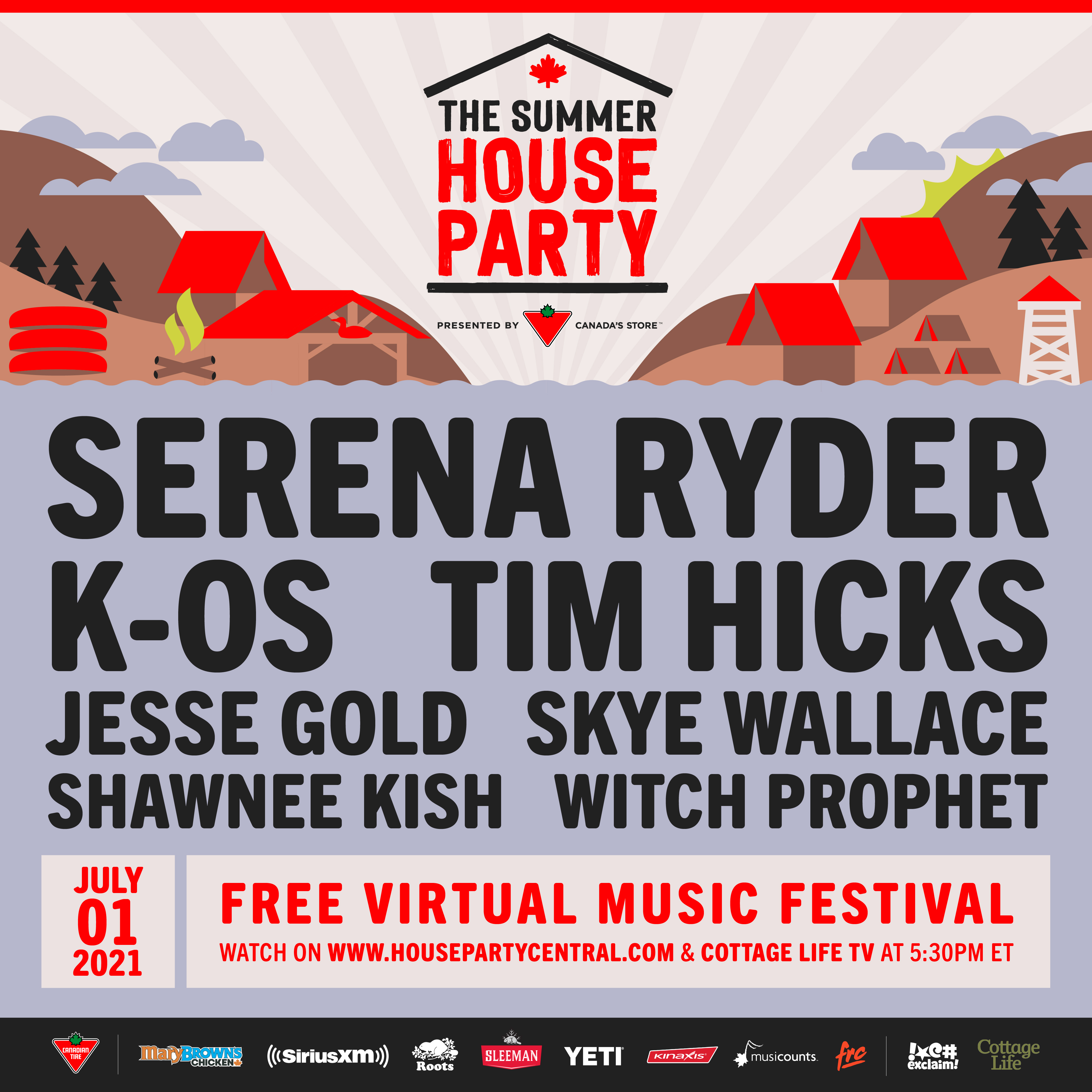 On July 1, Canadians from coast to coast are invited to The Summer House Party virtual music festival presented by Canadian Tire. Featuring a diverse, all-Canadian lineup, the interactive three-hour festival will bring together Canadian musicians, celebrities, contests, giveaways and more of celebrating everything Canadians love about music festivals – and viewers from across the country are invited to watch it from the comfort of their own homes at www.HousePartyCentral.com and on Cottage Life TV.
The virtual music festival, announced by FRC Marketing and partners Mary Brown's Chicken, ROOTS Canada, SiriusXM Canada, Sleeman Breweries Ltd., Kinaxis and YETI with support from the Canadian Live Music Association, Cottage Life TV and Exclaim! will connect audiences across the country during these extraordinary times of social distancing, reflection and reconciliation, while bringing together an impressive lineup of performances and appearances from Canadian personalities and musicians in a celebration of hope, healing and joy.
One of the best things about Summer is the infamous "Road Trip" and more importantly, are the incredible stops along the way. The Summer House Party presented by Canadian Tire as Cottage Life TV makes a few stops at some of their favourite locations in Muskoka and takes in a few glorious "Muskoka Moments".
"The past 15 months have been incredibly challenging for a lot of Canadians, and we wanted to give everyone an opportunity to come together as a country under one 'virtual' roof," said Kevin Goodman, Chief Entertainment Officer at FRC Marketing. "The Summer House Party will do just that. This is about bringing everything Canadians love about summer and music festivals into one experience that we can all enjoy for a good cause, while staying safe at home."
While summer music festivals and holiday weekends may look a little different this year thanks to Canadians doing their part to stay home and practice safe social distancing, The Summer House Party presented by Canadian Tire provides an opportunity and platform for all Canadians to come together to celebrate the joys of summer along with some of Canada's brightest musical stars and the healing gift of music.
Thanks to The Summer House Party event partners, fans will have the opportunity to purchase VIP "Care Packs" leading up to and on event day for $39.95 each. Each pack will come with a limited-edition Roots branded t-shirt as well as other offers from event partners such as Mary Brown's Chicken and all proceeds from the sales of the VIP packages will be donated to MusicCounts' Band Aid Program, supporting schools within Indigenous communities as well as the Indspire City and Colour Indigenous Student Bursary and the Indspire Alexisonfire Indigenous Music Bursary.
The Summer House Party presented by Canadian Tire will kick off at 5:30 pm ET on Thursday, July 1. All information about the event, including the schedule and details on how to join the party can be found at www.HousePartyCentral.com.
COVID-19 Modifications
The Muskoka region, including the restaurants and local businesses discussed above, have taken several precautions to help prevent the spread of COVID-19. Social distancing procedures must be followed. Masks are required for entry into all buildings and when social distancing is not possible. Frequent hand-washing is encouraged and everyone must self-isolate if experiencing any COVID-19 symptoms. For more information regarding COVID-19, please visit our COVID-19 Updates page.