Spinach and Paneer Crepes or Pancakes is a light, fluffy and wholesome meal that contains all the right nourishment needed to keep you going. Usually pancakes or crepes are considered a morning meal, but this version of our crepe is so versatile that you can make it a meal anytime of the day and it is also best as a takeaway lunch.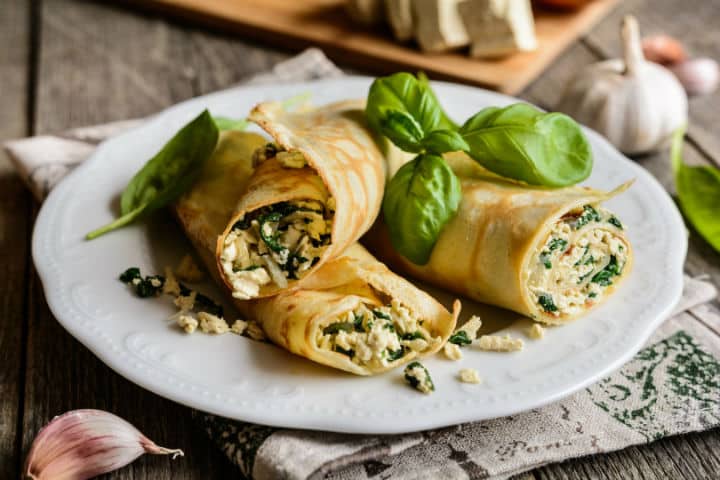 Caramelised onion, spinach and paneer make a fantastic combination. Usually made with all purpose flour or maida, we are taking a slightly healthier route and using the whole wheat version. If wheat or any other flour is not your cup of tea, await our low carb version, we will be publishing it very soon.
As we all know, spinach is a powerhouse of nutrients like iron, Vitamin K, folate and calcium. Similarly, Paneer provides an ample boost of proteins and healthy fats along with calcium. So, what are we waiting for, let's jump right into our Spinach and Paneer Crepes recipe and test it out.
If you like a sweeter version you can check out the Cinnamon Apple Crepes or the Hungarian Crepe
Serves : 4
Spinach and Paneer Crepes

Recipe

 

Spinach and Paneer Crepes or Pancakes is a light, fluffy and wholesome meal that contains all the right nourishment needed to keep you going.

 

 

 
Ingredients for
Spinach and Paneer Crepes
225

gm

Whole Wheat Flour

approx 1 Cup

3

Eggs

300

ml

Milk

approx 1 + 1/4 Cup

2

tsp

Unsalted Butter

melted

3

Spring Onion

2

Green Chillies

chopped

handful

Coriander leaves

chopped

few

Mint Leaves

chopped

1

tsp

Roasted Cumin Seeds

1/4

tsp

Turmeric

50

ml

Plain Yoghurt

1

small

Red Chilli

diced
Ingredients for the Filling:
1

bunch

Spinach

cleaned

3

tblsp

Oil

400

gms

Paneer

diced into small pieces

1

tsp

Mustard Seeds

1

tsp

Cumin Seeds

1

small

Onion

thinly sliced

1/2

inch

Ginger

grated

3

large

Garlic

grated

4

tblsp

Cream

1

tsp

Garam Masala

1

Lemon
How to make
Spinach and Paneer Crepes
To make the stuffing:
Blanch the spinach in a pan of boiling water for 3 to 4 minutes, or until wilted. Drain in a colander, squeeze out any excess water, then blitz in a food processor until roughly pureed. Set aside.

Heat 1 tablespoon of oil in a wide non-stick frying pan.

Stir-fry the paneer for 2 to 3 minutes, or until lightly golden. Remove with a slotted spoon and set aside.

Heat remaining oil in the same frying pan. Add the black mustard seeds & wait until it pops.

Next add cumin seeds and stir-fry for about 30 seconds & then add the onion and fry over a low heat for about 5 to 6 minutes, or until softened.

Add the grated ginger, garlic and garam masala to the pan and continue to cook for a further minute or so.

Then, stir in the spinach and cook over a medium heat for another 3 to 4 minutes.

Add the paneer and cream. Cook, stirring, for 2 to 3 minutes, or until piping hot. Consistency should be thick.

Squeeze in half the lemon juice, then taste and season, adding more lemon juice, if you like. Put to one side and keep warm.
For the Crepes:
To make the crepes, place the flour in a large bowl and season with sea salt. Make a well in the centre and add the eggs and half of the milk.

Add the melted butter to the batter along with the remaining milk. Whisk everything until smooth.

Trim and finely slice the spring onions and chillies. (remove seeds if you don't want it spicy).

Add the spring onions, herbs, turmeric and cumin seeds to the batter and mix well until it is incorporated.

Leave the batter to rest for at least 15 minutes.

Lightly grease a non stick frying pan with oil and place over a medium heat. Once the pan is hot, add a ladleful of batter, turning the pan so it evenly and thinly coats the base. Cook for 1 to 2 minutes, until set and lightly golden. Flip over with a spatula and cook the other side for another minute, until golden.

Slip the pancake onto a warm plate and keep covered with a clean tea towel while you make the rest of the pancakes. You should have 8 in total.
To serve:
When you're ready to serve, place large spoonfuls of the spinach and paneer mixture in the middle of each pancake and fold into triangles or roll up to enclose the filling.

Serve the Spinach and Paneer crepes along with a dollop of Yoghurt, chopped coriander and diced red chilli.