Posted on 09 December, 2020 in Kakadu, Luxury, Tours
Looking for a luxury tour of Kakadu? Please take a look at our 7 day option below.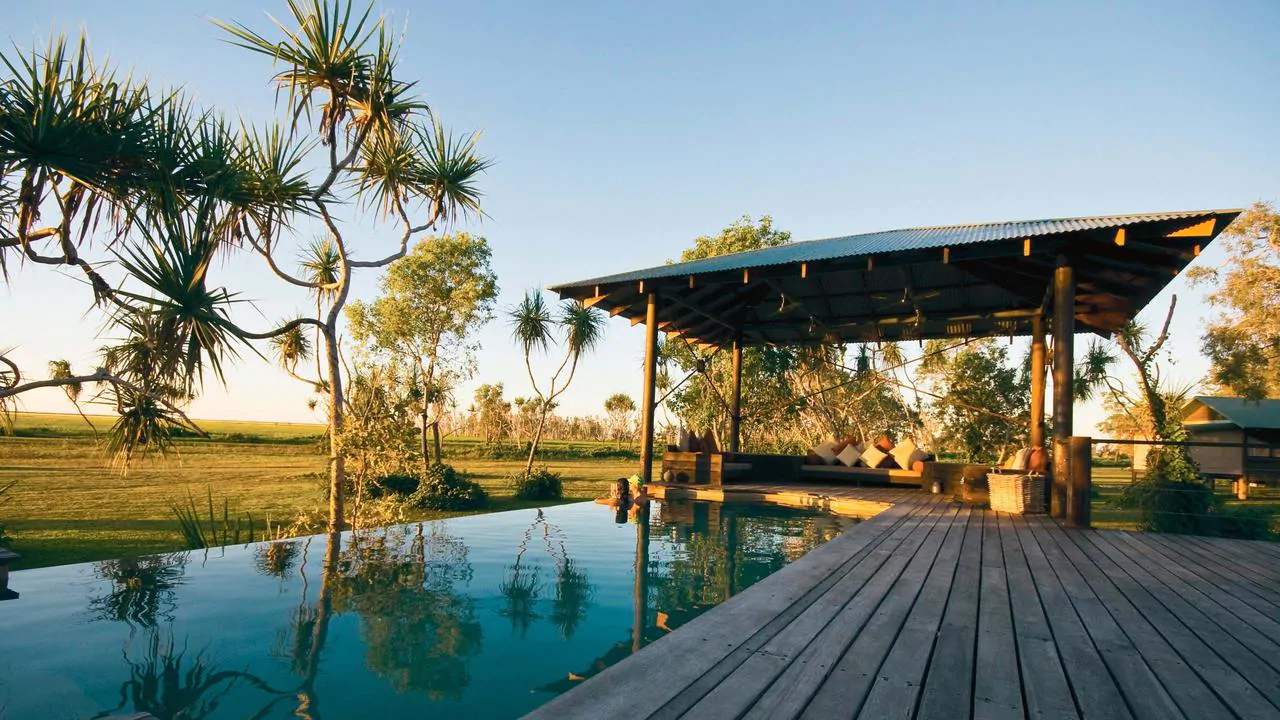 ---
On our 7 day luxury private tour of Kakadu & the Top End you'll depart Darwin in a luxury 4wd with one of our expert driver/guides. We'll first travel through Litchfield National Park, an area famous for its pristine waterfalls and swimming holes. Continuing on to Kathrine we'll spend two nights at the lovely Cicada Lodge and explore Katherine Gorge. Next, it's Kakadu, think waterfalls, rock art and wetlands covered in birdlife and crocodiles! Then after exploring some of Arnhem Land with a local Aboriginal guide the tour culminates with a two night stay at the world-class lodge; Bamurru Plains. See the full luxury tour itinerary below.
---
Day 1 – Litchfield touring
Depart your Darwin accommodation at 7am for the beginning of your 7 day safari through the Northern Territory's 'Top End'.
Our destination today is Katherine and en route we'll visit Litchfield National Park. Located just over an hour south of Darwin Litchfield comprises of a central sandstone plateau which supports rich woodland flora communities. Patches of monsoon rainforest thrive in the deep, narrow gorges and wildlife such as wallabies and birds flourish in the Park.
Two of Litchfield's most famous waterholes are Buley Rockhole and Florence Falls, both of which we will visit today. Here you will have the opportunity to swim and also snorkel in the crystal clear pool below Florence Falls and relax in the cascading pools at Buleys.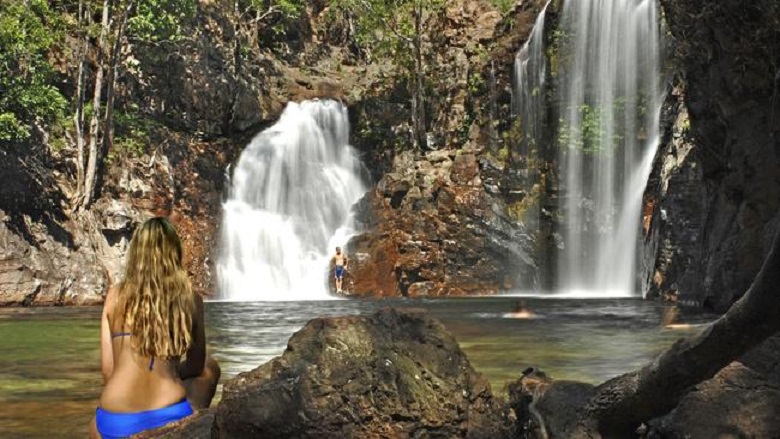 Today we will also visit the Magnetic Termite Mounds. These gigantic termite mounds stand up to 2m tall, having been erected in a north-south orientation which acts as a built in temperature control. These 'tombstone' like structures make the area look eerily like a giant cemetery.
After a picnic lunch we'll travel to Tolmer Falls. The caves near Tolmer Falls are home to the rare Orange Horseshoe and Ghost Bats.
Next, we will depart Litchfield and continue south to Nitmiluk National Park, home of the Jawoyn Aboriginal people and Katherine Gorge. Once in Katherine we'll head straight for the Gorge and our accommodation at Cicada Lodge.
Overnight: Cicada Lodge
---
Day 2 – Katherine Gorge touring
After breakfast we'll take to the air and explore Katherine Gorge by helicopter. This aerial journey will take us over all 13 spectacular gorges and will touch down in a remote section of the Park. On the ground your guide will show you a special rock art site painted by the local Jawoyn people many thousands of years ago. Here you'll also have the chance to take a dip in your very own private swimming hole next to a waterfall. Continue back to the heli-pad.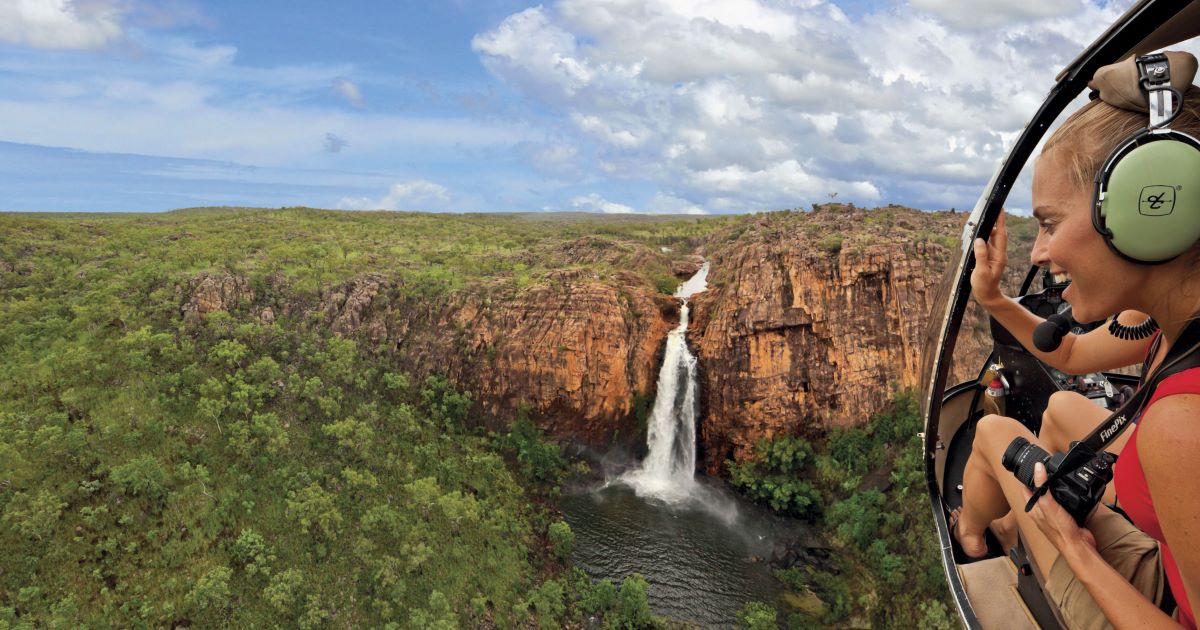 Next, we will travel to the Cutta Cutta Caves. These limestone caves are unique to this area and have formed a large underground system of caverns covered in stalactites and stalagmites.
Continue on to the Katherine Hot Springs, a nice place for a dip before heading back to Cicada Lodge.
Late-afternoon we will join a Nabilil Dreaming Sunset Dinner Cruise through Katherine Gorge. Sit back and relax and discover the stories and ways of the local Jawoyn people as we cruise along the first two gorges. The tour includes a three course candle light dinner, featuring fresh, local Australian produce cooked on board, and a complimentary glass of sparkling wine.
Overnight: Cicada Lodge
---
Day 3 – Kakadu touring
This morning we'll check out of our accommodation and travel by 4WD to the world heritage listed Kakadu National Park. En route we'll stop for morning tea at Edith Falls.
Covering almost 20,000 square km of exceptional natural beauty and unique biodiversity, Kakadu is one of very few places World Heritage listed for both its cultural and its natural values. Kakadu is home to the Bininj and Mungguy Aboriginal people who have inhabited this area for thousands of years.
Our first stop in Kakadu will be Moline Rockhole, a special permit area in which only a few select operators are permitted to access; guaranteeing minimal crowds. The small waterfall and waterhole below the falls is a great place to cool down and relax.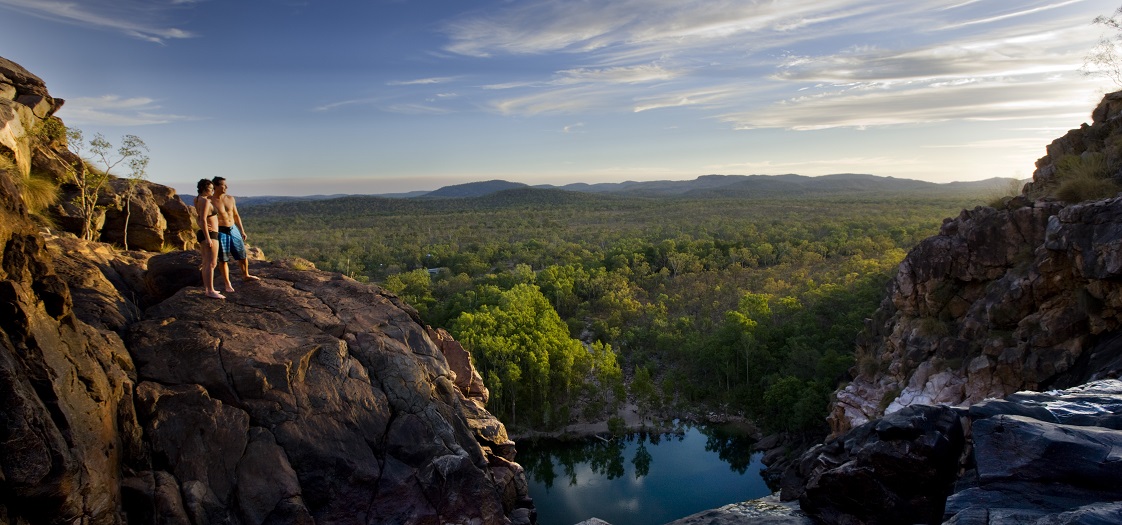 Next, we'll visit Gunlom Falls, another great swimming hole. A 15 minute steep climb to the rock pools above the falls provides sweeping views across the bushlands of Kakadu as well as great hiking opportunities.
Continue north through Kakadu late-afternoon to our accommodation in Jabiru.
Overnight: Mercure Kakadu Crocodile Hotel (superior room)
---
Day 4 – Kakadu touring
This morning we'll continue to explore more of Kakadu, firstly heading to Nawurlandja Lookout. A short climb takes us up the sloping sandstone to provide views of the sun rising across Anbangbang Billabong, Nourlangie Rock and the Arnhem Land escarpment.
Continue to the nearby site Nourlangie Rock, an area home to various Aboriginal rock art and occupation sites. Aboriginal people have inhabited this area for twenty thousand years, sheltering under Nourlangie Rock and utilising the natural resources around them. The results of this occupation can still clearly be seen and understood today with the various rock paintings of animals, people and spirits. Your guide will give detailed explanations of the stories behind the rock art and the surrounding area.
After Nourlangie we'll make our way to Maguk (Barramundi Gorge). Enjoy a scenic 1km walk along the edge of Barramundi Creek before arriving at the base of Barramundi Falls. Here you have the opportunity to swim or snorkel in the large plunge pool below the falls and discover an array of aquatic life.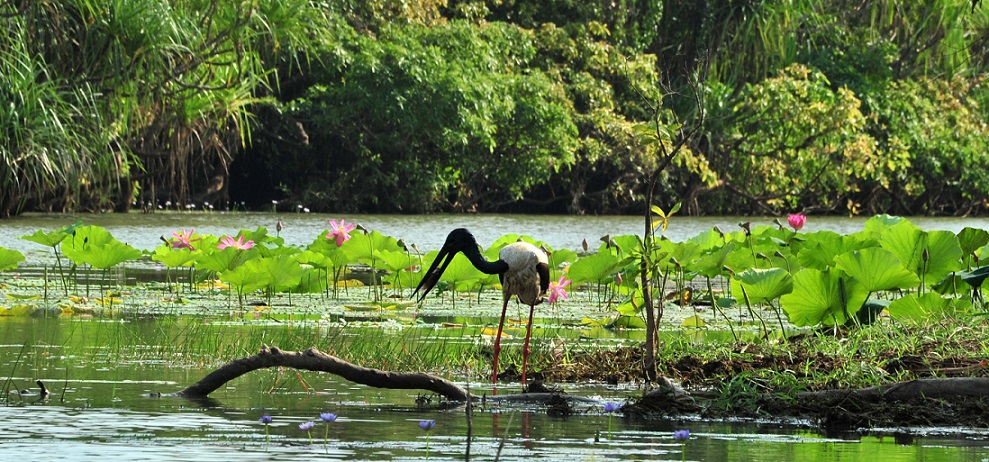 Next, we'll travel to Cooinda and join at 2hr cruise on the famous Yellow Water Billabong. On this picturesque waterway you will have the opportunity to view a large variety of birdlife as well as salt water crocodiles in their natural environment. Learn more about the wildlife on the billabong from your knowledgeable guide who will make the cruise both fascinating and informative.
Return to Jabiru after the cruise, keeping an eye out for nocturnal wildlife en route.
Overnight: Mercure Kakadu Crocodile Hotel (superior room)
---
Day 5 – Arnhem Land touring
After breakfast we travel from Jabiru to the northern region of Kakadu National Park to Cahill's Crossing on the East Alligator River, where we enter Arnhem Land. A 15 km scenic drive to Gunbalanya Aboriginal community provides some of the best driving views in the Top End with floodplains covered in bird life and water lilies running up alongside the Arnhem Land escarpment.
Upon arrival at Gunbalanya we will visit the renowned Injalak Arts and Craft Centre. Here you have the opportunity to meet and watch traditional local artists in action before departing with our Aboriginal guide to be shown around Injalak Hill's very extensive rock art sites. Spend the morning experiencing some of the best Aboriginal rock art in Australia. The area is home to a unique style of 'x-ray art', dating back many thousands of years. Listen to ancient dreamtime stories and learn more about Indigenous culture in the heart of Arnhem Land from your local Indigenous guide.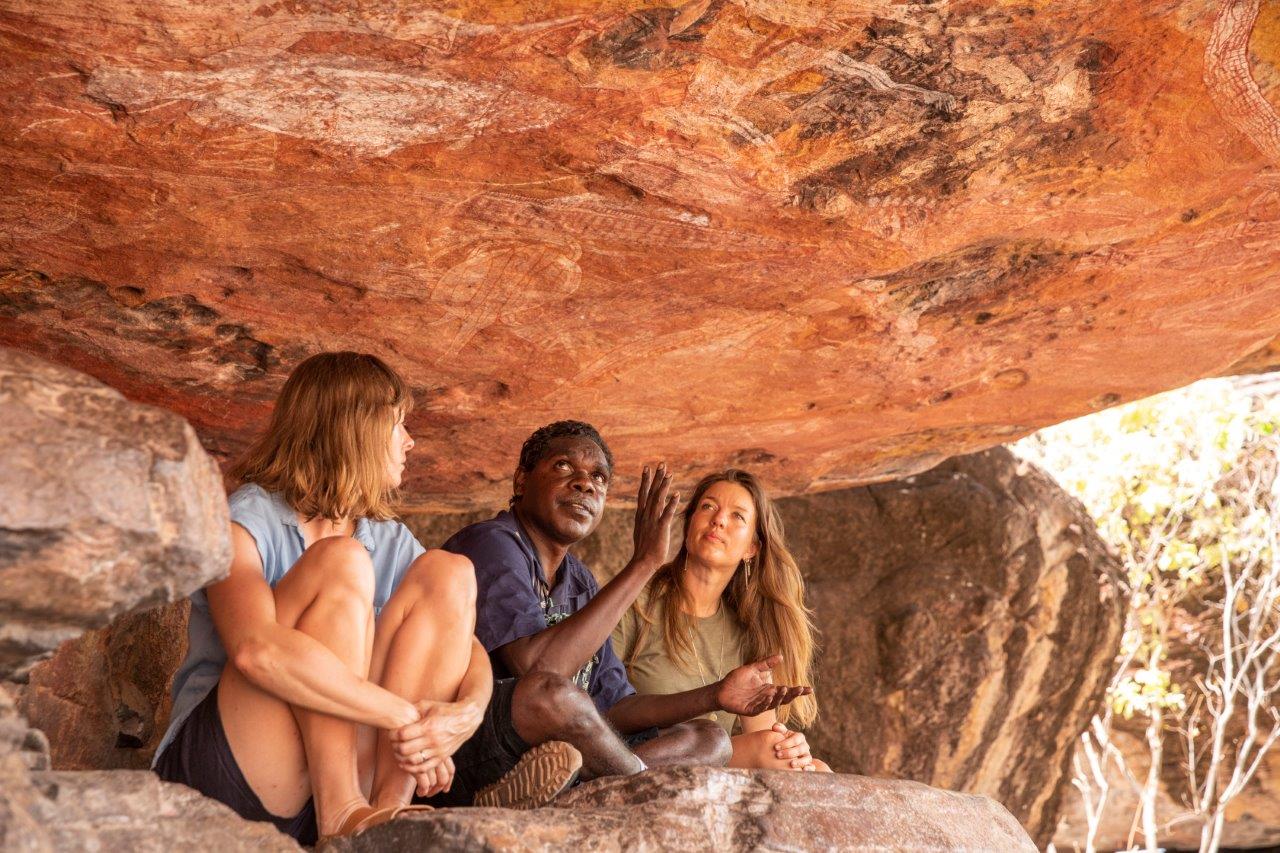 Next, we'll depart Arnhem Land and travel back through Kakadu to Bamurru Plains.
Plains is a luxury wilderness lodge located on a 300 square kilometre private buffalo station on the floodplains of the famous Mary River system on the western boundary of Kakadu National Park.
Arrive in at Bamurru mid-afternoon where we will stay for the next 2 nights.
Overnight: Bamurru Plains
---
DAY 6 – Bamurru Plains touring
Today we will explore Bamurru by 4wd and airboat, with plenty of time to relax and enjoy the serenity.
Bamurru Plains:
The camp has ten safari bungalows built amongst the pandanus vegetation on the edge of the wetlands. Each of them has been built with privacy uppermost in mind and to take advantage of the spectacular views across the wetlands. Each bedroom has views towards the floodplains.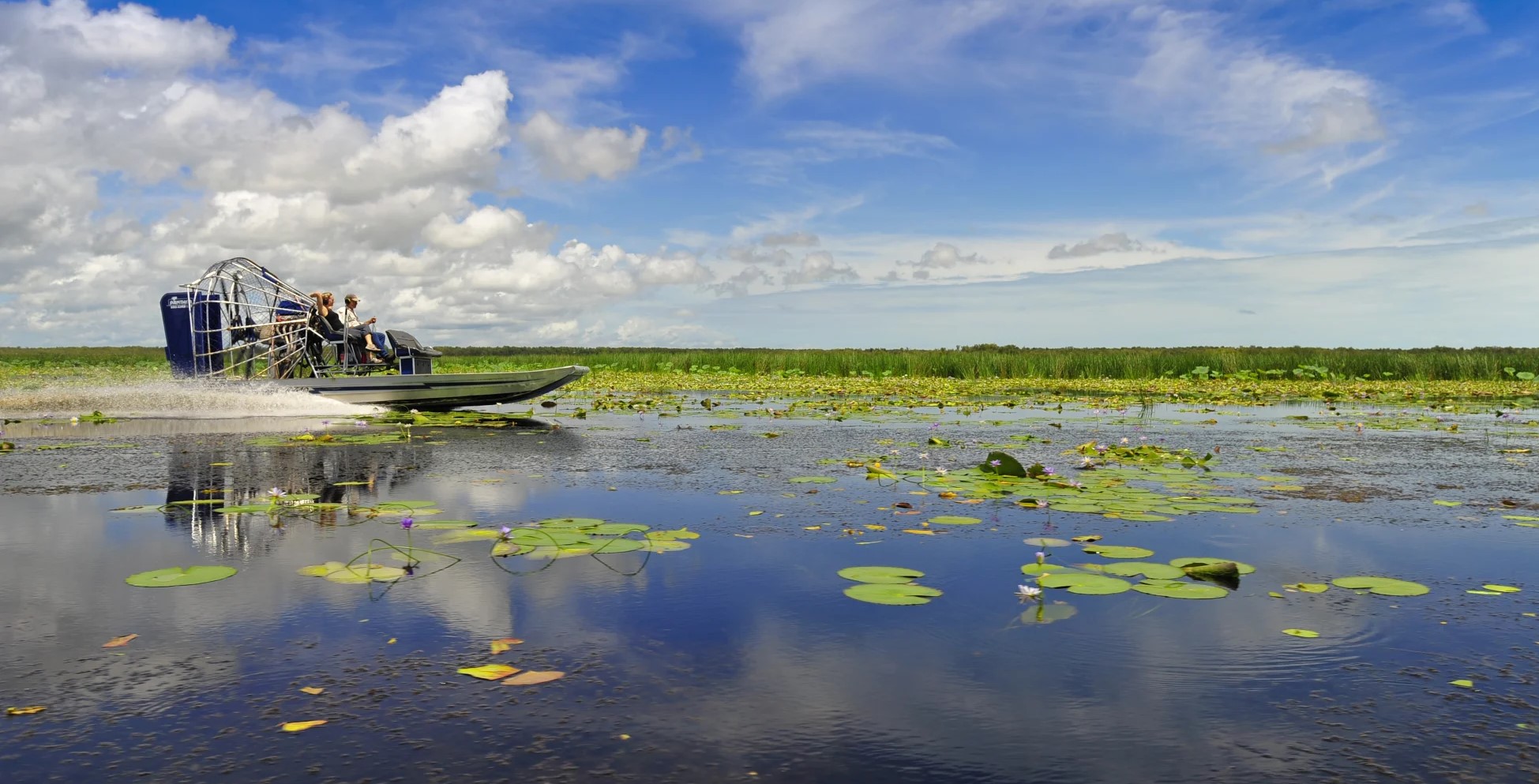 The focal point for dining and gathering with other guests, the lodge building has a quieter library area with reference books and some privacy from the more communal areas in the rest of the building, which includes the dining area. The front deck features a BBQ firepit area, a wet edge swimming pool with views across the floodplains and a covered lounge area for sitting out the heat in the middle of the day.
A select open bar (wines, beers and soft drinks) is included in the tariff and this is generally accessed on a self-service basis. Spirits are available for purchase.
Overnight: Bamurru Plains
---
DAY 7 – Bamurru Plains touring, then returning to Darwin
After breakfast we will embark on a morning activity before being transferred to the local airstrip for your 11am flight back to Darwin.
Arrive into Darwin at approximately 11.30am where you will be transferred to the main terminal or to your chosen accommodation.
This ends your 7 day luxury tour of Kakadu and the Top End.
---
The price of this luxury tour is dependant on the amount of guests as well as what time of year you are travelling. If you would like a quote please email us with this information and we will forward you pricing.
Can't fit a 7 day tour into your scheduled? We can offer shortened versions of this luxury safari. All luxury tours can we finely tailored to suit your exact touring needs. For more information please call our office on (08) 89275500 or email us here.