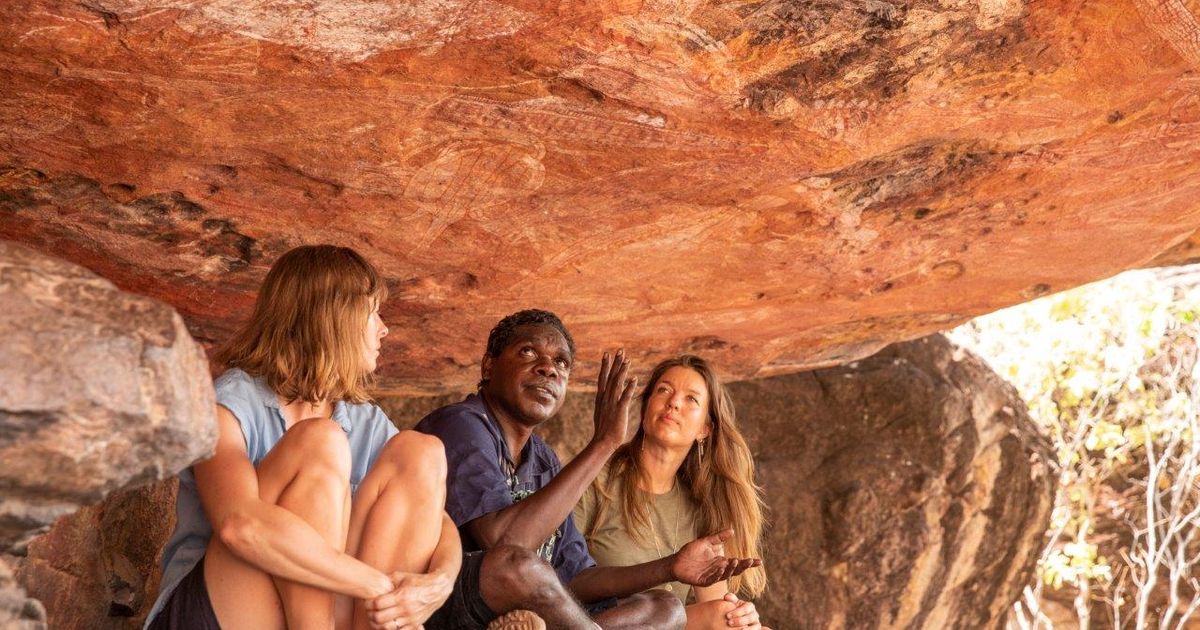 Posted on 02 November, 2020 in Arnhem Land, Tours, Culture, Rock Art
---
[embedded content]
---
This Ultimate Arnhem Land Tour departs from Darwin each Monday and Thursday
(31 May to 30 September 2021)
---
See the highlights of Kakadu National Park before leaving the crowds behind and experiencing the best of Indigenous culture in Arnhem Land. Each day on tour is truly different and unique as we journey from Darwin, through Kakadu, across Cahill's Crossing and into Arnhem Land. Enjoy good food, great guides and see a very special part of the Northern Territory few get to explore. Take a look at the brief day-by-day outline below.
---
DAY 1 – our Arnhem Land tour departs from Darwin by 4wd. Today we'll explore Kakadu, embarking on a wetlands cruise before a hike and swim at Barramundi Gorge. Followed by sunset at Nawalandja Lookout before overnighting at Anbinik Kakadu Resort.
DAY 2 – enter Arnhem Land where a local Aboriginal guide will show us the spectacular Injalak Hill rock art sites. We will also visit the renowned Injalak Art Centre before continuing our journey north to the Arnhem Land coast (Cobourg Peninsula), staying at Cobourg Coast Camp for the next 3 nights.
Cobourg offers an array of pristine wilderness experiences, cultural activities & world class fishing
DAY 3 – today we'll explore the NT's largest Marine Park by boat. Keep an eye out for turtles, dolphins, mantra rays, crocs and more as we cruise the bay of Port Essington en route to the historic Victoria Settlement ruins. Late-afternoon we'll have a fish and keep a couple for dinner this evening.
DAY 4 – today will be spent exploring this remote stretch of coast by 4wd. Wander deserted beaches covered in shells, see the worlds' first RAMSAR wetlands and reach the most northern tip of the NT mainland; Smith Point.
DAY 5 – depart Cobourg early and travel back to Oenpelli Airstrip where you'll board a private charter flight to Mt Borradaile safari camp. After settling in travel to the spectacular Rainbow Serpent rock art site, home to a six metre long serpent painting. Spend the next 2 nights at Mt Borradaile.
---
[embedded content]
---
DAY 6 – spend the morning exploring more world class rock art and occupation sites, then late-afternoon enjoy a cruise on a majestic billabongs full of birdlife and crocs!
DAY 7 – enjoy one last activity at Mt Borradaile, options include; barramundi fishing, bird watching, rock art tours or a traditional bush tucker & medicine walk. Then at noon board a charter flight back to Darwin.
This ends your Arnhem Land adventure.
---
2021 TOUR COST: PER ADULT $6,190.00 (twin-share)
---
Don't have 7 days to explore the region? Perhaps our 4 Day Arnhem Land Tour or 5 Day Arnhem Land Tours may suit?
For more information about our Arnhem Land Tours please call us on 08 89275500 or email us on here.