Posted on 25 September, 2019 in Arnhem Land, Tours, Rock Art, Culture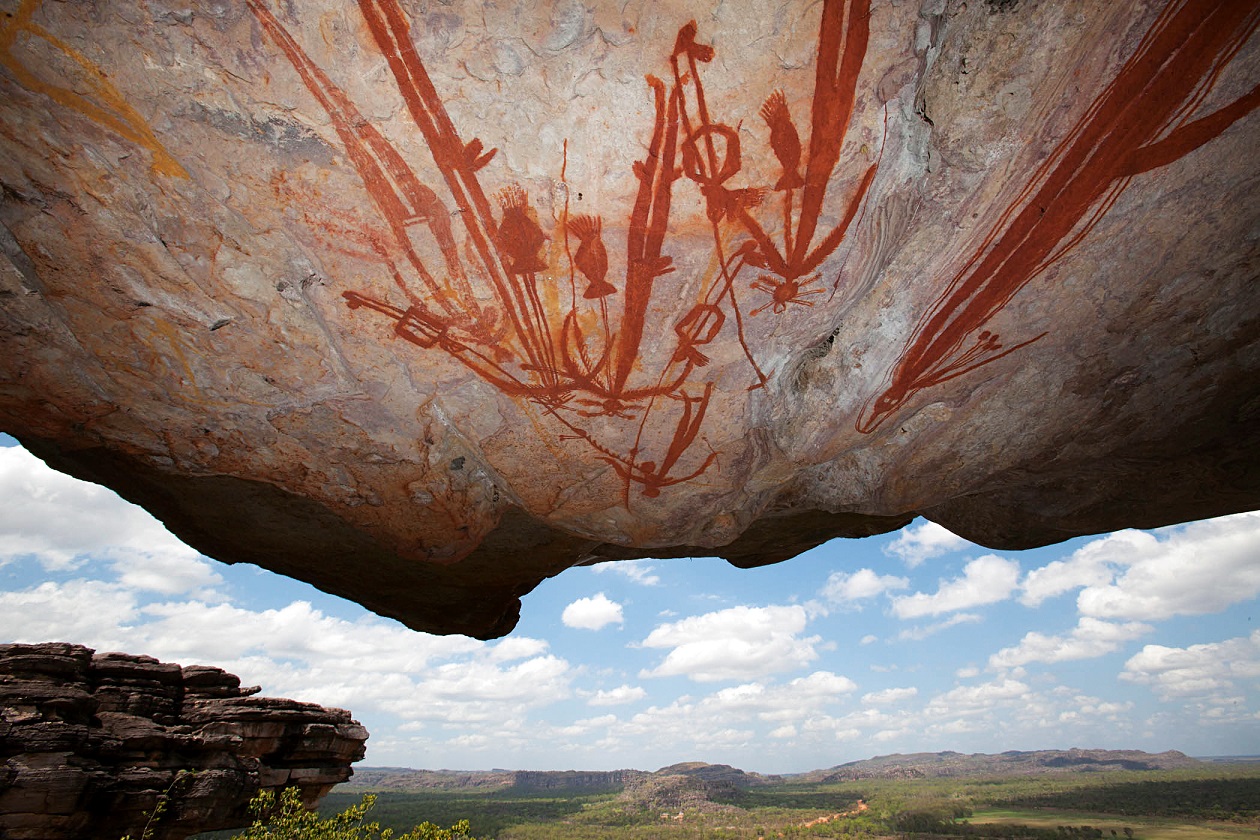 ---
Arnhem Land Tours; One Day & Multi Day Tour Options
A tour to Arnhem Land in the Northern Territory's
Top End promises all the things synonymous with a great Australian holiday: nature
at its most wild, adventures at their most authentic, and cultural experiences
at their richest. And with one of Arnhem Land's larger communities, Gunbalanya, only a four hours' drive from Darwin, it's entirely possible to see some of Arnhem Land in
a day if you're really short on time. Read on for a common one-day Arnhem Land tour
itinerary or if time's not an issue skip to the bottom to learn more about our multi-day tours of Arnhem Land.
---
The 1 Day Arnhem Land Tour from Darwin itinerary;
5-5.30 am, depart Darwin – yes, you read that right.
If you want to do Arnhem Land in a day, you've got to make an early start.
7 am, breakfast at Corroboree Park Tavern – there
will be no time for casual dining; it'll be a grab-and-go affair before you
need to hit the road again.
10 am, there's only one road
into Gunbalanya, and it involves crossing the East Alligator River at Cahill's
Crossing. The East Alligator is heavily populated by saltwater crocodiles
(mis-identified as alligators when the river was named), and being a tidal
river, you need to pick just the right time to cross safely.
10.30 am, arrive Injalak Arts and Crafts Centre –
refuel with morning tea then stretch your legs as you peruse the colourful
wares on display. Wander the shaded verandas to chat with artists as they
create their works and snap up a unique piece to call your own.
12 noon, Injalak Hill Tour – join a local
Aboriginal guide for a tour of one of Australia's most impressive rock art galleries and learn about creation stories and survival practices of
the local people.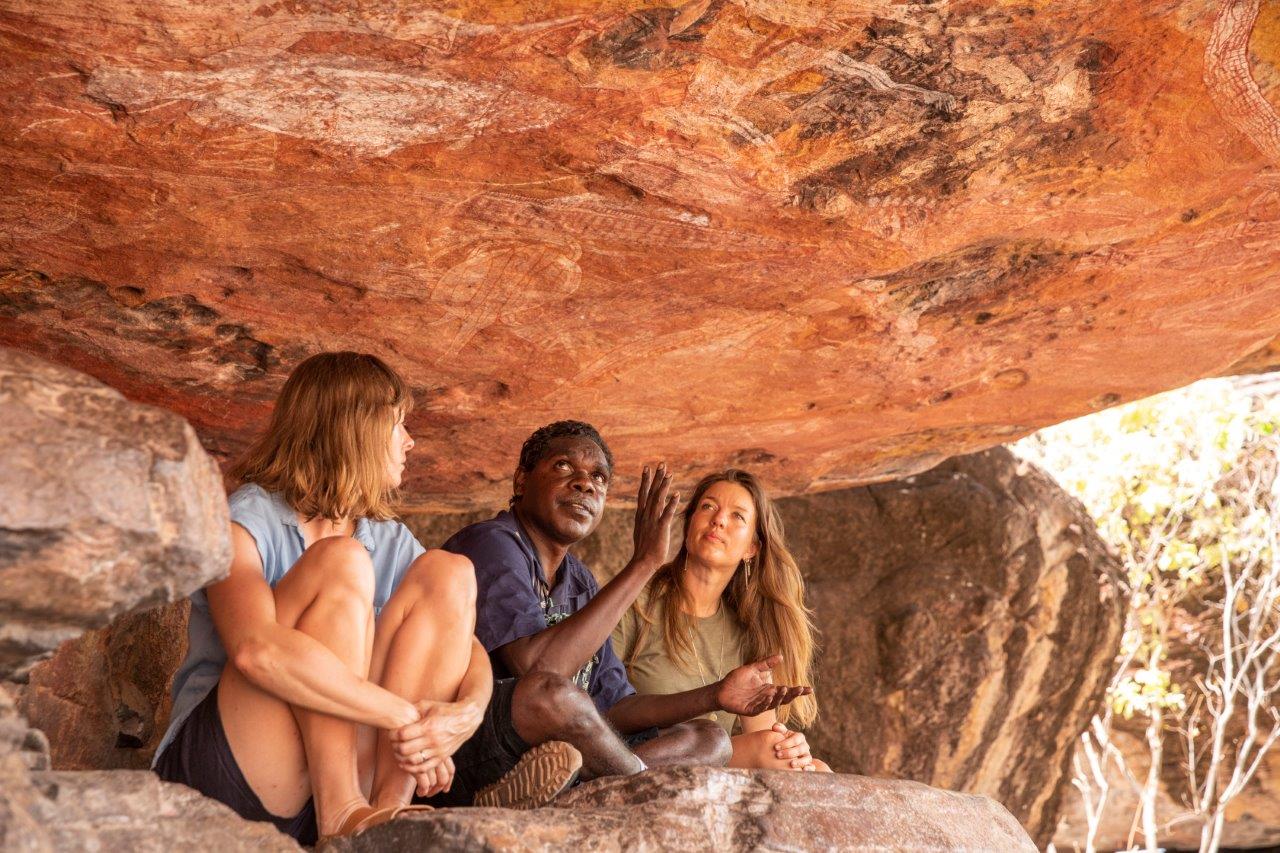 1.30 pm, lunch – enjoy
views of the billabong and escapement country as you feast on a picnic lunch up Injalak Hill. Next, you'll hit the road back to
Darwin.
2.45 pm, depart Gunbalanya.
4 pm, afternoon tea – make a quick stop in
Jabiru to grab a snack and a cold drink.
7-7.30 pm – arrive Darwin.
Top End
Day Tours and The Arnhemlander
Cultural and Heritage Tour offer one-day tours to Arnhem Land departing
from Darwin or Jabiru. Although it's entirely possible to see some of Arnhem Land in
a day, there's so much more natural beauty to take in and culture to experience. Therefore at Venture North we offer two multi-day tours of Arnhem Land so you can fully connect with and experience this incredible part of
the Northern Territory. Our 4 day tour departs from Jabiru while the 5 day tour departs from Darwin, please see more below.
---
4 Day Arnhem Land Tour
This tour departs from Jabiru each Tuesday and Friday at 7.30am.
Similar to the 1 day tour this tour begins with a visit to Gunbalanya and the Injalak Hill rock art sites with a local Indigenous guide. We then continue deeper into Arnhem Land where we spend the next 3 nights at Cobourg Coastal Camp on Arnhem Land's north-western tip. We only take a maximum of 6 guests on this tours so it's a highly personalised experience for all.
Take a look at the video below for a fantastic overview of this amazing tour or read the full Arnhem Land itinerary here.
---
[embedded content]
---
5 Day Arnhem Land and Kakadu Tour
This tour departs form Darwin each Monday and Thursday at 7am.
This includes all the experiences on the above 4 Day Arnhem Land Tour but also a days touring in Kakadu National Park on day 1. Tour highlights include: swimming at the Kakadu waterfall Barramundi Gorge, an Aboriginal guided rock-art tour in Arnhem Land, wildlife cruises full of birdlife and crocodiles, remote safari-style accommodation, fishing and much more! Find out more about our most popular Arnhem Land tour here. Or call us on (08) 89275500.
We hope to see you somewhere in Arnhem Land soon!