Kakadu with a Toddler in Tow!
Posted on 05 October, 2018 in Kakadu, kids, family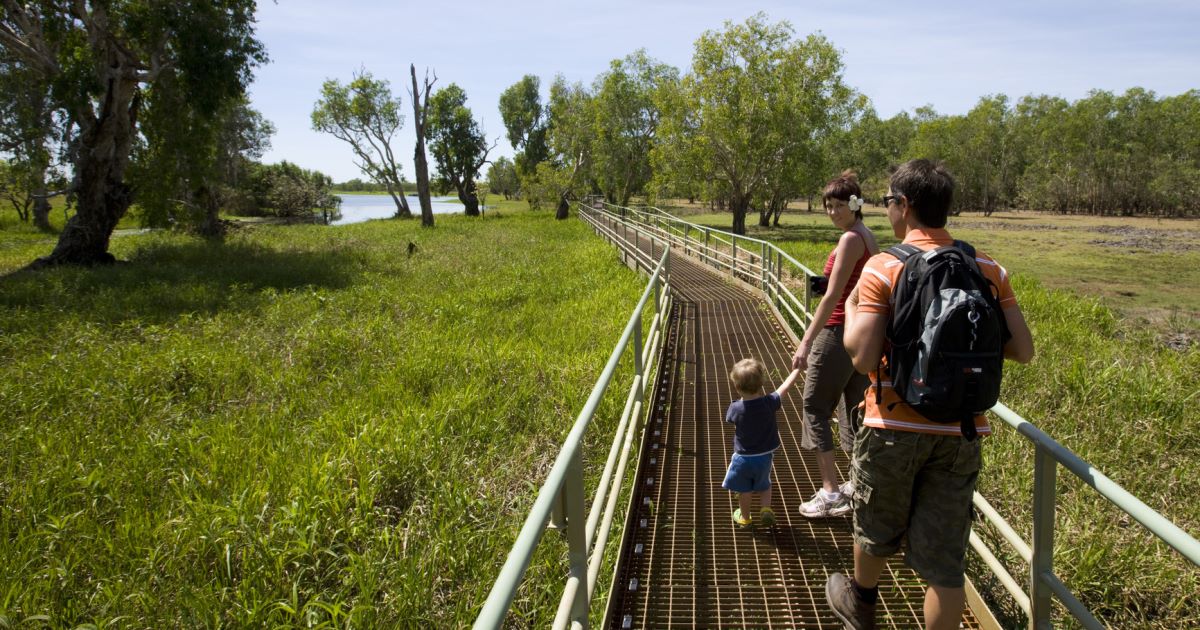 Tips for visiting Kakadu with toddlers and young children
Kakadu National Park is home to ancient rock art sites, spectacular waterfalls, gorges, amazing swimming holes, unique wildlife and a year-round tropical climate – surely a recipe for a great family holiday! We've shortlisted a few stops in the Park that should keep young children (as well as the grown ups) happy.
Firstly please note group tours of Kakadu are generally not possible with toddlers so embarking on a private tour or self-driving are your two best options. Now Northern Territory road trips can be long (especially if you are only a 2yo!) and you will need the flexibility to stop as required. Travelling at your own pace will make your holiday more enjoyable and relaxing for everyone.
When to go to Kakadu?
Firstly consider what time of year you will be visiting…
May – August is the most popular time to visit Kakadu, it's the 'dry season', so blue skies, cooler nights and most areas of Kakadu are open. Depending on your preference you may like to camp or perhaps stay in accommodation. We would recommend a few nights camping at this time of year and a few nights staying in accommodation – the kitchen facilities and swimming pool can be very handy. Mosquitos and midges can be annoying at some campgrounds in Kakadu (Merl Campground if notoriously bad!) so we recommend contacting Bowali; the Park's Visitor Information Centre to get the most up-to-date information.
September – October is also very dry but toward the end of September it's our 'build up' so hot, hot, hot. This time of year is great for swimming and activities in the early morning and late afternoon. Staying in accommodation with air-conditioning at this time of year is a great option with littlies who will need a cool spot for their day naps (the car on the way home from a big morning at the waterfalls will often also suffice).
November – April is the 'wet season' and each month is a bit different in terms of weather but in general expect rain off and on and hot days. Most of the well known swimming holes are not open at this time of year due to flooding and crocodile safety precautions but there are still some great wet-season places to safely take a dip. If you are travelling at this time of year, accommodation is a must, it can be quite spectacular to sit on the verandah and watch the storms roll in but activities can be limited by the weather with your little one.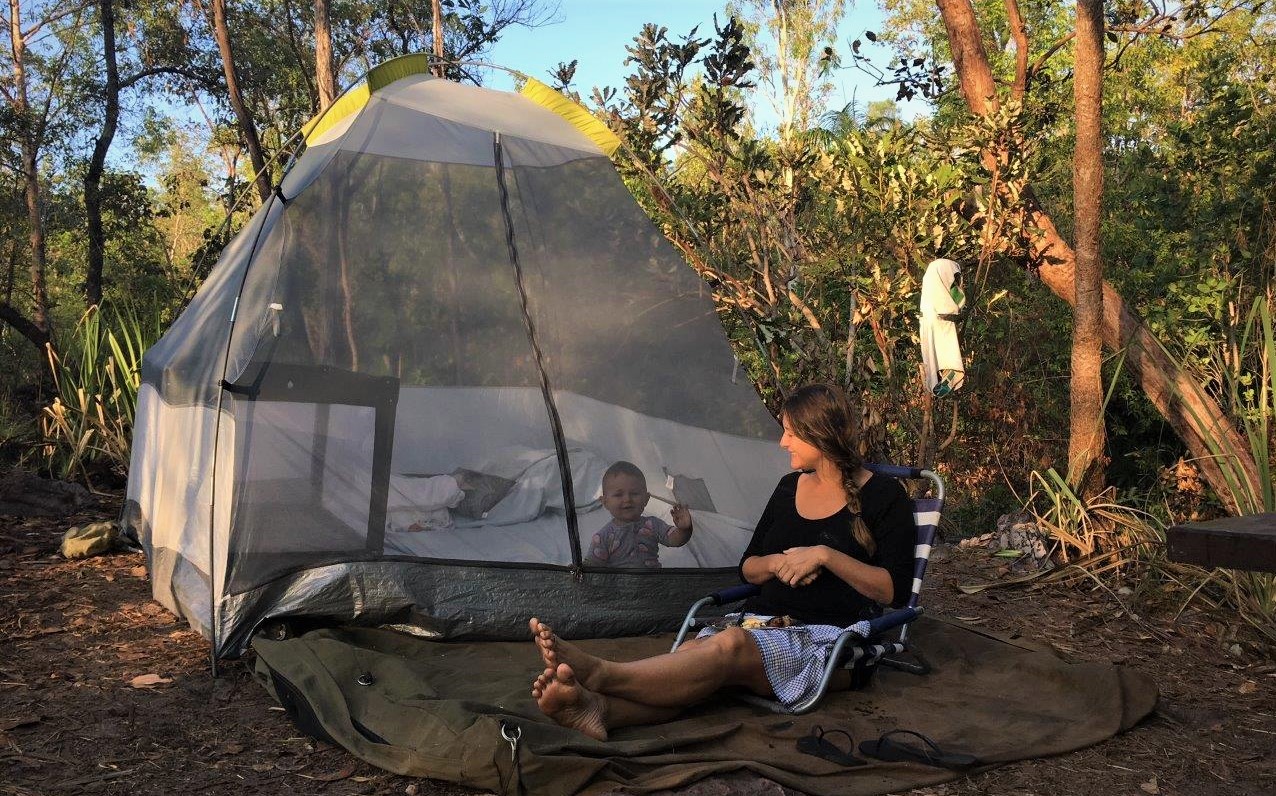 Itinerary suggestions for Kakadu with toddlers
Long distance driving with toddlers can be a headache so our hot tip when driving to Kakadu would be to depart Darwin early and makes lot's of stops on the way. On the 3hr drive we'd recommend stopping at Corroboree Billabong (just over a 100km from Darwin) to join a wetlands cruise. Their morning tours are 1hr or 1.5hrs and there's a high chance you'll spot some HUGE crocs (this river system has the largest population of saltwater crocodiles in the world!) and a variety of amazing bird life. Wildlife spotting should keep your little one entertained, then after a picnic lunch if you've timed it right you have a tired toddler asleep for the next 185km to Jabiru where there are a few good accommodation options and campsites.
Nourlangie is our top pick for a toddler friendly rock art site, with short easily accessible walks and lots of recognisable animals to be found painted on the rock shelter. There is also quite a bit of shade here. If you're also keen to check out Ubirr (which is spectacular at sunset) we would recommend wearing your little one in a backpack carrier as the path is rocky and there is steep terrain, ledges and lookouts. Heading south to Cooinda, there is a cultural centre and accommodation options with a pool and playground. This is a good overnight stop in the middle of Kakadu National Park if long drives are taxing on your toddler.
Swimming in the crystal clear waterfalls is another highlight for many visitors. Gunlom Falls is a magical spot to camp with a young family. Large grassy areas only a short walk to a little sandy beach area, perfect for little ones with shallow spots for splashing and sand play with a large pool and waterfall as the backdrop. Facilities include hot water showers, loos and shaded grassy areas where with a bit of luck you might spot a wallaby or two grazing in the afternoon.
Here you'll find a kiosk (ice creams anyone?) and ranger talks throughout the year
Gunlom is camping only and you need two nights to enjoy this spot as its around 120km south of Cooinda including 30km or so of unsealed roads. About 20km before you reach Gunlom, Yurmikmik is a good little spot to stretch your legs and have a picnic. Here, just a short walk away is the little waterhole Boulder Creek, a great place splash around and cool off. The longer walk into Motorcar Falls is an easy flat stroll through native bushland but ends with steep rocks and a deep pool not necessarily suited to toddlers. Maguk is another magical gorge and waterfall only 60km from Cooinda but the trail is rocky and uneven and would be difficult with toddlers unless they were in a hiking backpack. The sitting area at the base of the waterfall is tiny and drops off to deeper water. The campground here is more sand and scrub with drop toilets and the waterfall is a 30 minute walk away.
If your toddlers have now grown up and you'd like more information on visiting Kakadu with older children we'd recommend reading Kakadu for Kids or watching the Kakadu Tours for Kids video.
Travelling with your little ones can be a very rewarding and memorable experience. It's sometimes (or often!) challenging but always worth it. So good luck and if you are interested in a private tour around Kakadu please get in touch. We take children of all ages on our private Kakadu tours and can put together a trip you'll family will never forget! Safe travels.