The Ultimate Arnhem Land Tour
Posted on 08 August, 2018 in Arnhem Land, Tours, Culture, Rock Art, Cobourg
– An 11 Day Arnhem Land Tour from Nhulunbuy to Darwin –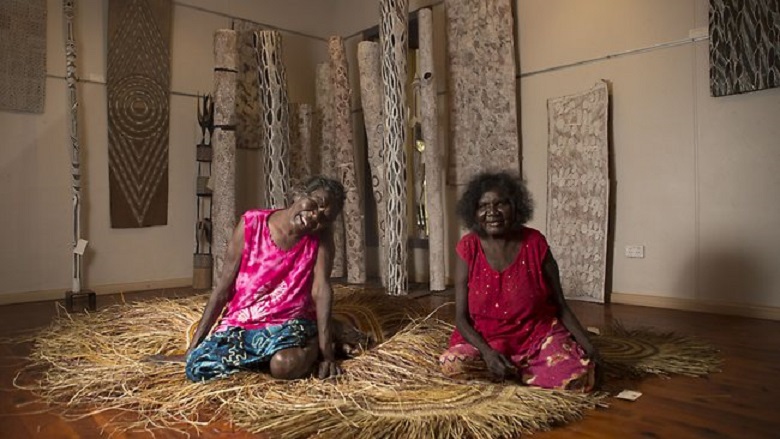 Experience the world's oldest living culture firsthand as we take you on an unforgettable journey through Arnhem Land. The tour travels overland from Nhulunbuy (Gove), along the Central Arnhem Road, up through Kakadu, culminating on the most northern tip of the Arnhem Land mainland; the Cobourg Peninsula.
A cultural wilderness adventure like no other
Prepare yourself for an adventure without hesitating to expect the unexpected. The Arnhem Land region doesn't necessarily have the same customs and traditions as you may be familiar with. Things won't always run on time and not everything goes to plan (this is often part of the adventure), never the less we guarantee you will walk away with an amazing experience that you'll never forget.
The 11 day Arnhem Land tour route from Nhulunbuy to Darwin;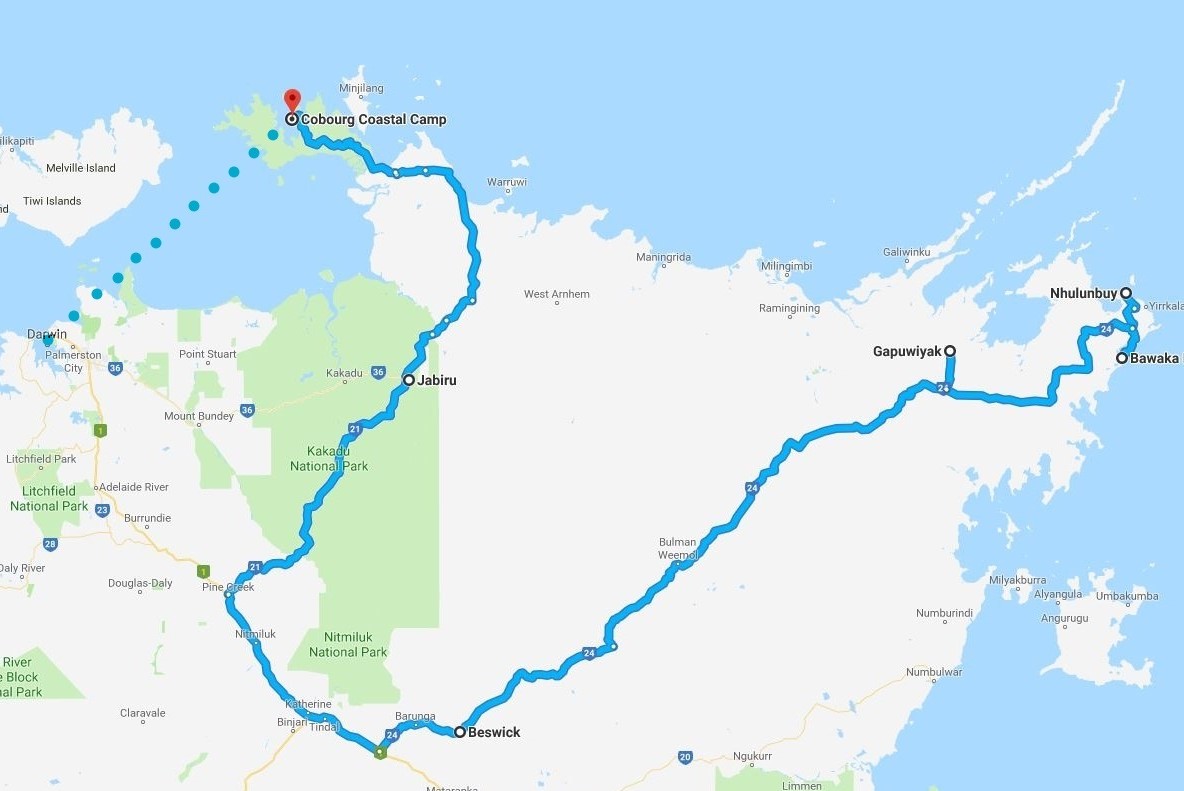 ---
DAY 1
At 10am your Venture North guide will collect you from your Nhulunbuy accommodation. After a short tour of Nhulunbuy we'll head to the nearby community of Yirrkala to visit the Buku-Larrnggay Mulka Art Centre, arguably one of the best and most significant Indigenous art centres in Australia.
The art centre includes an extensive gallery of Aboriginal art and artefacts, a fascinating museum and a theatrette featuring many films of the area. The East Arnhem region is home to many important artists who specialise in paintings on bark as well as intricate pandanus weavings. The region is also considered to be the home of the Yidaki (commonly referred to as the didgeridoo) which the centre displays and sells a wide variety of.
One of the jewels in Buku-Larrnggay Mulka's crown are the two four metre tall Yirrkala Church Panels (1962-3) that have been classified as some of Australia's most important historical art works. The centre also features the message stick that Wonggu sent his sons in the early 1930's which is another significant story in modern Indigenous/Australian history.
Next we'll depart Yirrakala and journey on to a very small homeland called Bawaka. Bawaka is set on a beautiful beach in an area known as Port Bradshaw and is approximately two hours' drive south of Nhulunbuy.
Bawaka is the name given to the homeland which belongs to the Burarrwanga family. In order to provide income for their family they have created a cultural awareness program. The experience here is predominantly delivered by members of the Burarrwanga family, or otherwise related family members from the wider Gumatj clan group.
Visitors to Bawaka experience daily life of traditional Yolngu people and are provided with an insight into Yolngu culture, kinship, language and customs as well as traditional hunting and gathering methods.
Overnight: Bawaka (bunkhouse)
---
DAY 2
Today we will embark on a full day of coastal cultural activities with our Yolngu hosts. Often the group will be separated into gender to learn about men's and women's 'business', e.g. activities such as spear making is a man's domain while craft is a women's activity.
Overnight: Bawaka (bunkhouse)
---
DAY 3
This morning we will hit the road and travel deeper into Arnhem Land to the community of Gapuwiyak. Located on the shores of Lake Evella the town was originally established in the late 1960s by Methodist missionaries to supply timber for missions in the region. Today it is home to a population of about 1000 people and is one of the biggest communities in East Arnhem Land.
Enjoy a drive around the town and lake before exploring Gapuwiyak Culture and Arts; the local art centre.
Overnight: Gapuwiyak (basic room)
---
DAY 4
Today we will embark on a full day of inland cultural activities with our Yolngu hosts. We'll meet up with some of the local ladies and learn how to make traditional baskets weaved from pandanus and coloured with natural bush dyes. This ancient practice is still very common throughout Arnhem Land today and it's fascinating to see these baskets come to life.
Today we'll also make a fire and learn about some traditional bush cooking methods and try some local foods
Overnight: Gapuwiyak (basic room)
---
DAY 5
This morning we will say our goodbyes to our Yolngu hosts and travel south-west through Arnhem Land down to Jawoyn country. Our destination is Beswick (also known by the local name Wugularr). This will be one of the biggest drives of the trip, so we will break it up with various stops along the way.
After reaching Beswick mid-afternoon embark on a local history walk around the community.
Overnight: Beswick (cabin)
---
DAY 6
Today we will be joined by some of the locals and head 'out bush'. Each trip out bush is different and will depend on the time of year. One common activity is to try and find some 'sugarbag' which is the honey from the native stingless bees, it's a favourite food our here and very delicious! We will also do some more scenic touring including a visit to the local swimming hole and gorge.
Late-afternoon we'll return to Beswick and visit the Ghunmarn Culture Centre and Gallery.
Overnight: Beswick (cabin)
---
DAY 7
After breakfast we will depart Beswick and continue west into Katherine where we will stop for a quick dip and morning tea at the Katherine Hot Springs.
Next we will continue north into Kakadu National Park. Covering almost 20,000 square km of exceptional natural beauty and unique biodiversity, Kakadu is one of very few places World Heritage listed for both its cultural and its natural values. Kakadu is home to the Bininj and Mungguy Aboriginal people who have inhabited this area for thousands of years.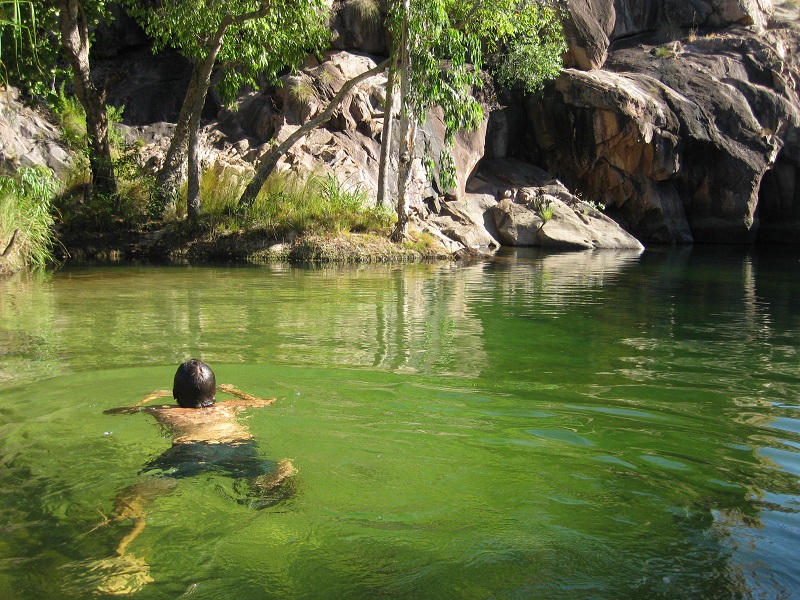 Once in Kakadu we will visit Moline Rockhole, a special permit area in which only a few select operators are permitted to access; guaranteeing minimal crowds. The small waterfall and waterhole below the falls is a great place to cool down and relax.
Continue north along the Kakadu Highway to Jabiru and our accommodation for the night.
Overnight: Anbinik Kakadu Resort (bungalow)
---
DAY 8
After breakfast we travel from Jabiru to the northern region of Kakadu National Park to Cahill's Crossing on the East Alligator River and re-enter Arnhem Land. A 15 km scenic drive to Gunbalanya Aboriginal community provides some of the best driving views in the Top End with floodplains covered in bird life and water lilies running up alongside the Arnhem Land escarpment.
Upon arrival at Gunbalanya we will visit the Injalak Arts and Craft Centre. Here you have the opportunity to meet and watch traditional local artists in action before departing with our Aboriginal guide to be shown around the Injalak Hill art sites. Spend the morning experiencing some of the best Aboriginal rock art in Australia before returning to the Injalak Art Centre where we leave our hosts and journey north.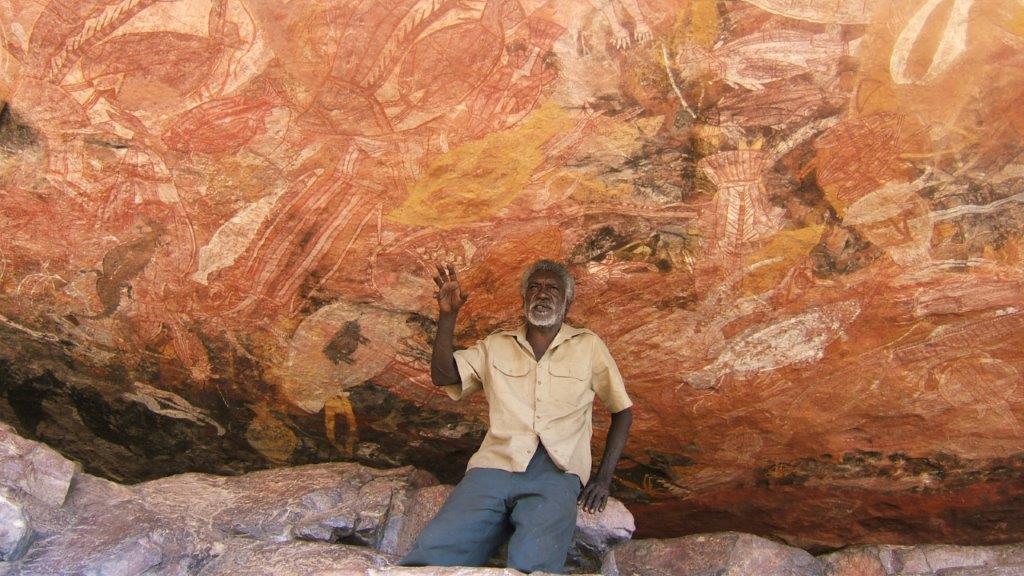 Continue on to Garig Gunak Barlu National Park (Cobourg Peninsula). The drive takes approximately 3-4 hrs with stops and creek crossings along the way. Upon arrival at Venture North's camp you will be greeted by the resident camp host and served nibbles on the cliff top. Relax as the sun sets over Port Essington.
Overnight: Cobourg Coastal Camp (safari tent)
---
DAY 9
Awake to the sound of birds and enjoy a special 'Cobourg-style' cooked breakfast.
This morning will be spent exploring the Northern Territory's largest Marine Park by boat. Cobourg is abundant in some amazing marine life including six of the seven species of marine turtle, manta rays, dolphins, sharks, crocodiles, mud crabs and plenty of fish.
As we cruise the Marine Park we will stop and visit the Victoria Settlement ruins. Established prior to Darwin as a military outpost by the British, this site represents the third failed attempt at settlement in Northern Australia. After surviving for 11 years between 1838 and 1849 it was abandoned. Stone ruins still stand on the shoreline of Port Essington and serve as a reminder of the hardships faced by the early colonists.
Depart the settlement and try your luck at fishing. With more than 250 species of fish and over 2000sq km of Marine Park to explore, this place is an idyllic fishing destination.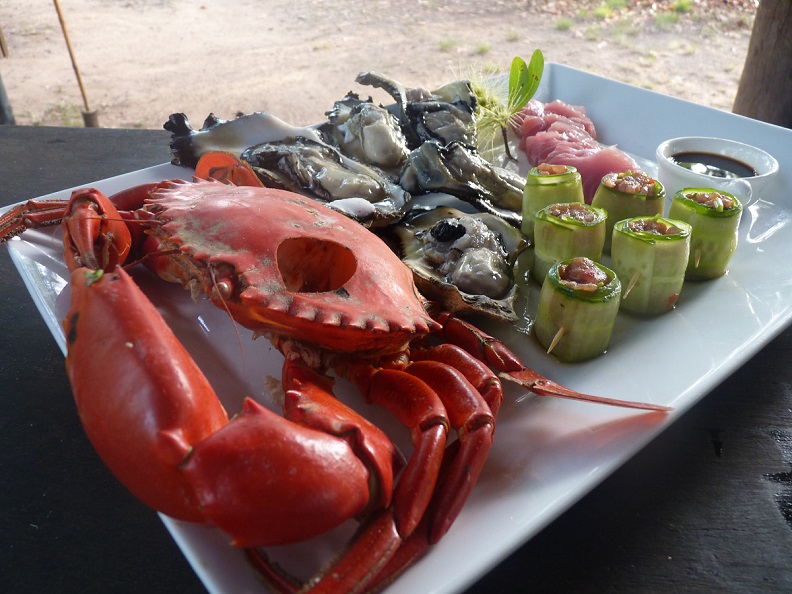 Return to camp late afternoon. Tonight enjoy a freshly caught seafood dinner.
Overnight: Cobourg Coastal Camp (safari tent)
---
DAY 10
Today we explore the eastern side of the Park this time by 4WD.
Cobourg is home to the first RAMSAR wetland (wetlands of international importance) in world with freshwater paperbark swamps and billabongs 100m from the coastline.
Continue on via the northern beaches, commonly used as turtle nesting areas and covered in a wide range of shells. Low tide provides opportunities to explore exposed coral reefs and rock pools which are home to a variety of marine life.
After lunch you will have an opportunity to go hunting for mud crabs using traditional Aboriginal methods. Learn how to hunt and gather these local delicacies before having a go yourself. Return to camp late afternoon.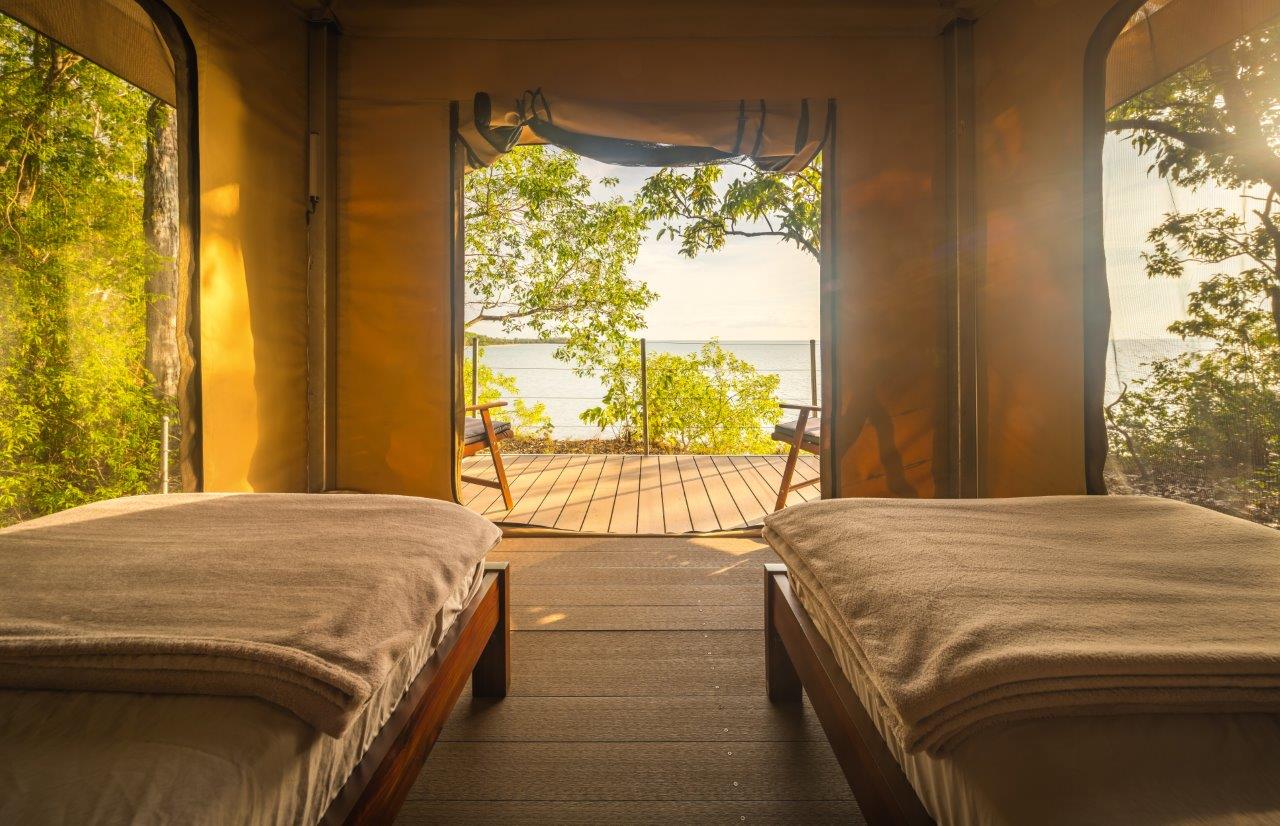 Overnight: Cobourg Coastal Camp (safari tent)
---
DAY 11
After a relaxing morning at Cobourg we will depart at 10am and travel to the local airstrip for your scenic charter flight back to Darwin.
Arrive into Darwin at approximately noon where you will be transferred to your chosen Darwin hotel
This ends your Arnhem Land journey.
---
For more information about tours of Arnhem Land and beyond please contact Venture North here or call us on 08 8927 5500