Posted on 30 November, 2017 in Kakadu, Tours, Rock Art
Nourlangie & Namarrgon; the Lighting Man
It's late afternoon and as the dust settles behind our 4WD Landcruiser we arrive at Nourlangie Rock, an UNESCO World Heritage rock art site hidden among Kakadu's lush monsoon rainforest. Archaeologists have revealed that Aboriginal people have been using this shelter for at least 20,000 years; an epic history of human occupation lies beneath our feet but amazingly an even richer ancestral dreamtime story is being told in the rock shelter above our heads.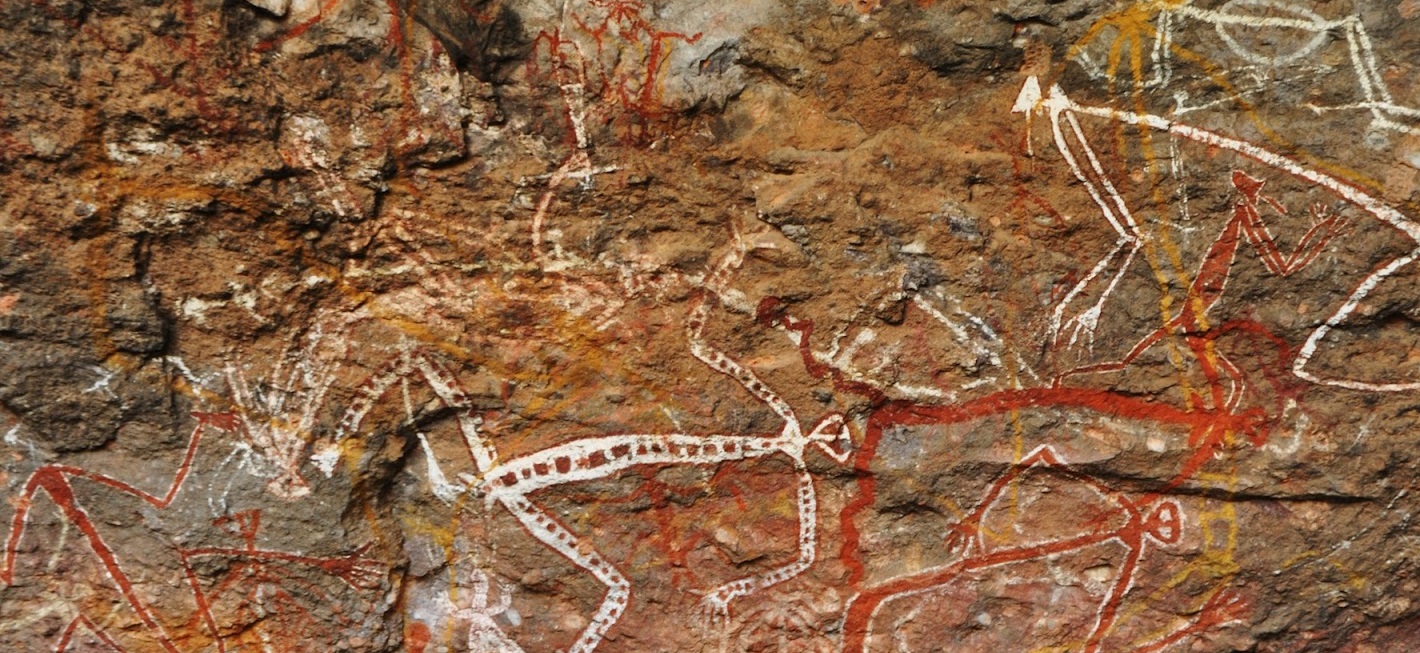 Mimi Spirit Figures
We've walked the easy 1km track into Anbangbang Gallery, the temperature drops a few degrees as we stand under the hanging rock shelter, the cool shade of the ancient Arnhem Land escarpment takes the sting out of the afternoon heat. Looking around the gallery the overlapping images detail a rich, colourful history of Aboriginal traditional life, ceremonies and their creation spirits.
The creation ancestors painted here tell a story, although one we can only partly tell. These powerful stories are not for balanda (white person), we hear the children's version, only the most respected senior Indigenous people are entrusted by the ancestral beings to carry this knowledge.
We are here to meet a very important creation ancestor Namarrgon (Lightning Man) and one who is responsible for the spectacular lightning storms and big rains that bring Kakadu back to life each wet season. Namarrgon's story is part of a larger narrative, his journey began on the coastline of the Cobourg Peninsula some 500 km away (where we are headed next!) and it ends here in this rock shelter.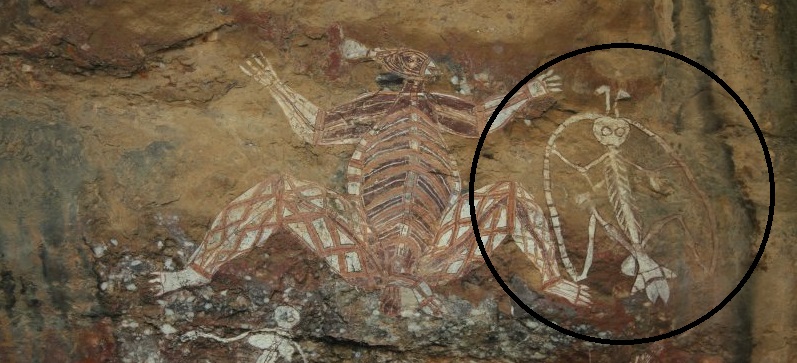 Namarrgon (Lightning Man) above
The band around Namarrgon's body joining his ankles, hands and head represent the lightning he creates. The axes depicted on his head, elbows and feet are used to split the clouds and make lightning and thunder.
Ask any local around here and they will protest to the all powerful Namarrgon, begging him to bring on the storms after a long dry season to cool the country and light up the night skies!
There's nothing quite like seeing a massive storm roll out across the Arnhem Land escarpment and the monsoon rains cascading in waterfalls down the huge rock face flooding the billabongs and wetlands, waking up the bush and all it's inhabitants, including one of it's most famous inhabitants, Gagudju; the saltwater crocodile.
Kakadu has the world's greatest concentration of rock art with approximately 5,000 sites recorded and 10,000 more thought to exist. Still this represents only a fraction of the art in the Arnhem Land region, where access is heavily restricted and only a handful of tour operators are permitted to travel. Although Nourlangie Rock art site is open to the public I can't shake the feeling it's a very sacred, powerful place.
We next head to the nearby Nawurlandja Lookout, our guide excitedly points out to the escarpment, we can see the first wet season storm brewing. A few snapshots later and we head back to vehicle keen to get back to our accommodation for the night before the monsoon rain hits. Sitting by the open car window listening to the thunder roll out across this sacred country I can't help but wonder if Namarrgon is telling us something…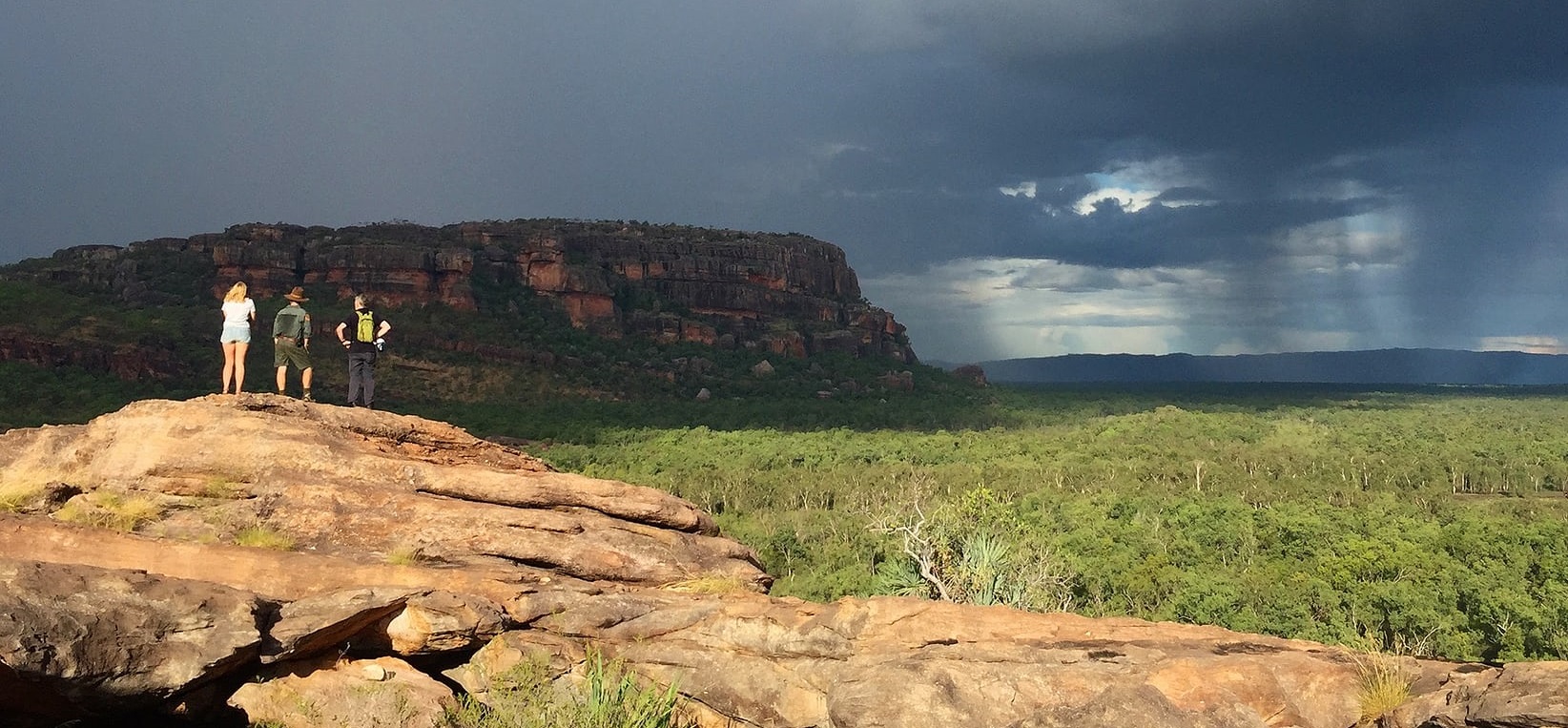 Nourlangie need to know:
Open from 7am until sunset
Accessible is all year round (can get cut off with heavy rain – check Bowali Information Centre)
Easy 1.5km circuit to galleries, lookouts and shelter
Disabled access to some art sites (including Namarrgon)
---
Words by Mavis Jean. Mavis travelled with Venture North on one of our private Kakadu tours. She is our guest blogger this week sharing her out of the ordinary visit to Nourlangie and her brush with Namarrgon the Lightning Man!