Twin Falls Crossing – How to safely cross Jim Jim Creek in Kakadu
Posted on 28 August, 2017 in Kakadu, Top End Locations
Twin Falls is one of Kakadu's most popular waterfalls, but it's also one of it's more difficult to access.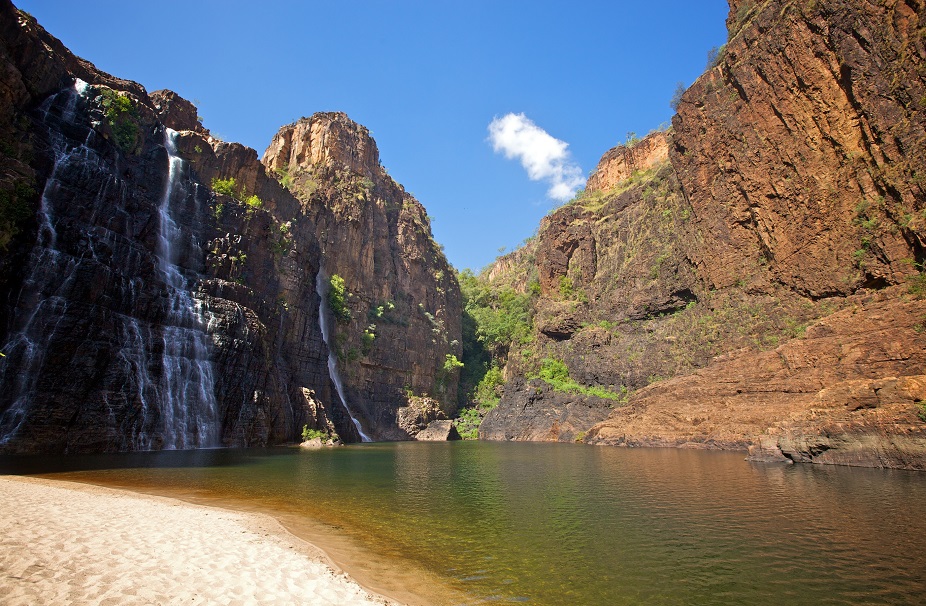 In order to reach Twin Falls you'll need a 4WD with a snorkel, as the drive takes you across soft sandy tracks and a potential deep water crossing at Jim Jim Creek.
Twin Falls is located in a fairly central part of Kakadu National Park, about 50km* off the Kakadu Highway. Once you reach the car park a short 5 minute walk takes you to a small boat shuttle departure point. This is where you'll have to board a 10 minute boat shuttle transfer in order to get to the next section of the walk. Operated by local Aboriginal guides, the shuttle takes you through some spectacular sandstone country with opportunities to spot freshwater crocodiles and the rare pig-nose turtle in their natural environment. The shuttle departs every 15 minutes between 7:30am and 4:30pm and costs $12.50 per adult (children under 16yo are free). Make sure to have cash on you as there are no eftpos facilities (alternatively Bowali Visitor Centre sells tickets which are valid for three days).
Once disembarking the shuttle a 20 minute walk across sandstone outcrops and a series of hand-railed paths brings you to paradise! The white sandy beach at the base of the falls has crystal clear water and is the ideal place to chill out, relax, have a bite to eat and take in the beauty. Please note swimming is not permitted (Saltwater crocodiles inhabit this area).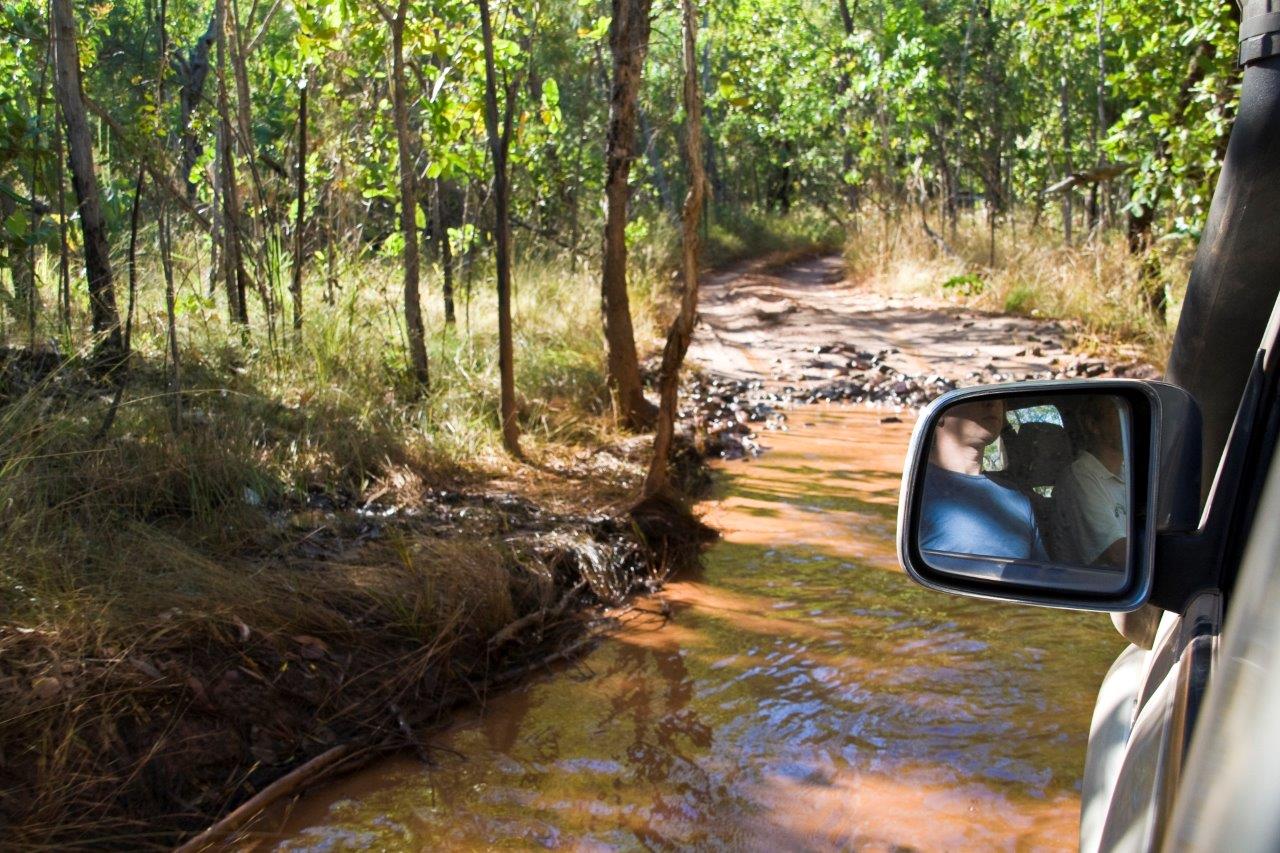 *Be aware the 50km drive after turning off the Kakadu Highway into Twin Falls is pretty slow going especially the second half where it's sandy and often just a single lane. Don't be fooled into thinking it'll only be a half hour drive, it's actually closer to 2 hours! Also while you're down this way most people choose to visit Jim Jim Falls as the two attractions are only 10km apart.
Visiting Twin Falls is only possible in the dry-season and once the site has been opened by Parks (usually around July sometime). You can find out if it's open on the Kakadu Road Report page here; What's Open in Kakadu Today. If you are travelling into Kakadu in the wet season then there's only one way to see the falls and that's by a spectacular 1 hour flight from Jabiru.
How to cross the Jim Jim Creek on your way to Twin Falls
Firstly if you're heading into this region of Kakadu you are going to need a four-wheel drive – no exceptions! The track is sandy with rocky areas, and several small creek crossings including the major one across Jim Jim Creek. It is highly recommended that your 4wd is fitted with a snorkel as the water is often too deep to cross without one earlier in the year. If you go later in the year, say September or October, the water is shallower, but still expect anywhere up to half a metre + in depth. It's best to call the Bowali Visitor Information Centre on (08) 8938 1120 before departing to find out the most up to date depth and information.
A lot of rental car companies in Darwin will not allow you to drive on the road into Twin Falls so make sure you check the T&C's before departing.
Kakadu National Park officially recommends the following precautions when making the crossing:
Only high-clearance 4WD vehicles with a sealed snorkel should attempt this crossing.
Engage low-range 4WD and drive slowly through the crossing, do not push a bow wave.
Cross only one vehicle at a time.
This crossing is not suitable for SUV (All Wheel Drive vehicles).
If hiring a vehicle, check with your rental car company if you are covered to cross the Jim Jim Creek. Most hire car companies do not allow this and will void your insurance.
In the event of a breakdown, stay in your vehicle until help arrives, do not get out of the vehicle under any circumstances, as estuarine crocodiles frequent this area.
Recovery will be at your expense.
If in doubt, consider your options carefully.
Consider taking an organised tour into Twin Falls.
For more information about crossing the river into Twin Falls or to book a tour into this region please email Venture North or call us on (08) 89275500.