Visiting Twin Falls and Jim Jim Falls
Posted on 19 February, 2017 in Kakadu, Tours, Top End Locations
Twin Falls and Jim Jim Falls are arguably two of the most famous waterfalls within Kakadu National Park. They are located in a central region of the Park and are only about 10 kilometers apart so are usually explored together on the same day. Visiting both at once makes even more sense when you consider the drive in from the Kakadu Highway (in Kakadu) is about 2 hours in each direction.
If you're going to explore these parts of Kakadu you're going to need a four-wheel drive. The mixes of sandy and rocky areas, and several creeks mean a 4WD is a must. To get to Twin Falls you'll have to cross an often fairly deep creek so you'll need to check with the Bowali Visitor Centre it's depth before departing (often a vehicle fitted with a snorkel is required). If you go later in the year, say September, the water is shallower, but still expect anywhere up to half a meter in depth.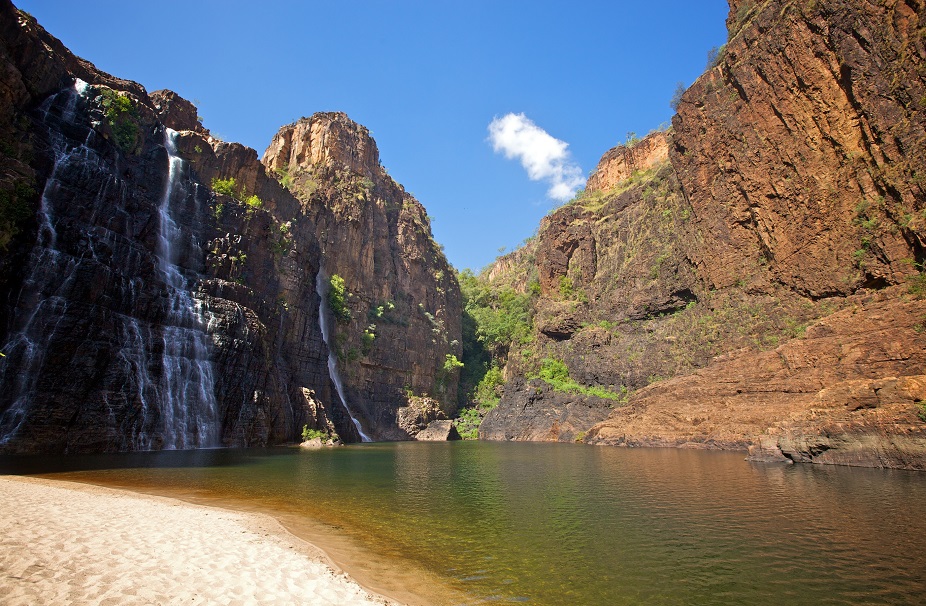 Twin Falls in the dry season
In the past, if you wanted to make it all the way to Twin Falls from the car park, you had to swim upstream through the gorge. These days there is a boat service that will take you all the way, and swimming is now prohibited. Once at the falls the sandy beach is a great spot for a picnic and to enjoy the pristine scenery.
Twin Falls usually opens for visitors around late-June (similar to Jim Jim Falls) and is a wonderful place to spend an afternoon. Here you'll see a picturesque waterfall cascading over sharp cliffs and meeting the water and sandy beach below.
Then there's Jim Jim Falls which is one of the Parks most iconic waterfalls and comprises of a huge cliff face where a stream of water falls about 200 metres into the plunge pool below. Jim Jim
offer's excellent swimming in the waterhole beneath the falls but beware it can be cold! If you follow the water a little further upstream it does warm up. If you're fit and active then a walk to the top of the falls offer amazing views over Kakadu.
Beware of the crowds though, after all, these are very popular sites in Kakadu so try to arrive as early in the day as possible.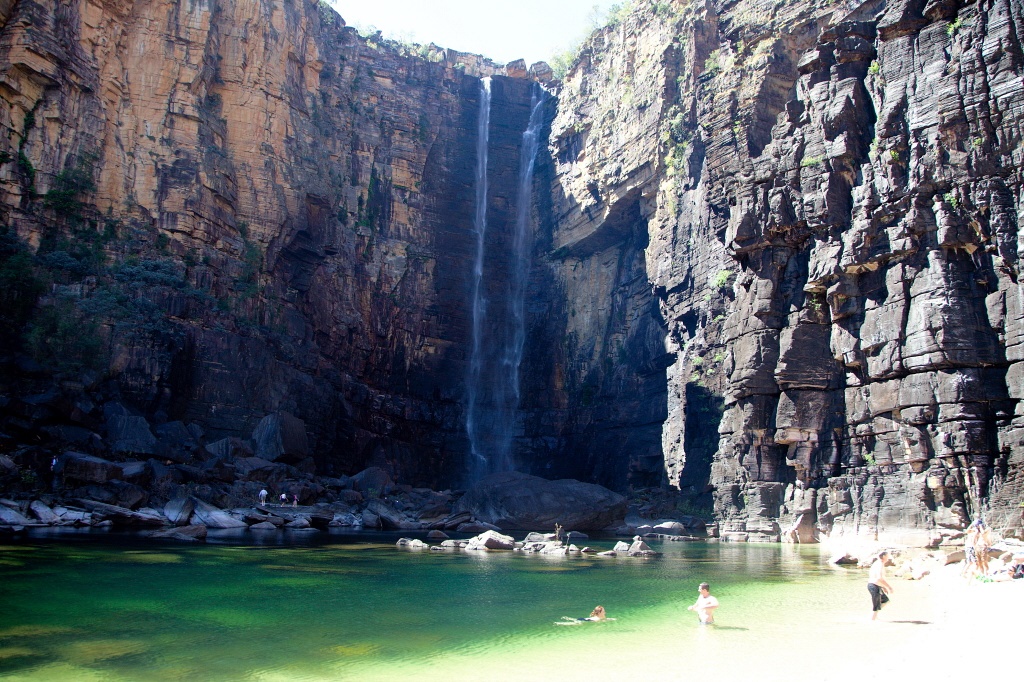 Jim Jim Falls in the dry season
When it comes to camping, the Garnamarr camping area is well maintained and located within a short drive of both waterfalls. It's a great place for a quick picnic as you pass through or even better for meeting fellow travelers around the community fire pits each evening. Camping here means you can often escape the crowds by getting to the falls earlier or staying later.
Both Twin and Jim Jim Falls close towards the end of the dry-season, usually around the end of October. Once the wet-season kicks in and the area begins to flood there is still one way to see the falls…and that's by light plane! One of the best ways to see Kakadu in the wet-season is on a scenic flight and we recommend a 1 hour scenic flight from Jabiru. On this flight you will travel over many different and spectacular landscapes along the Arnhem Land escarpment and see various river systems, billabongs and of course both Jim Jim and Twin Falls in all their glory.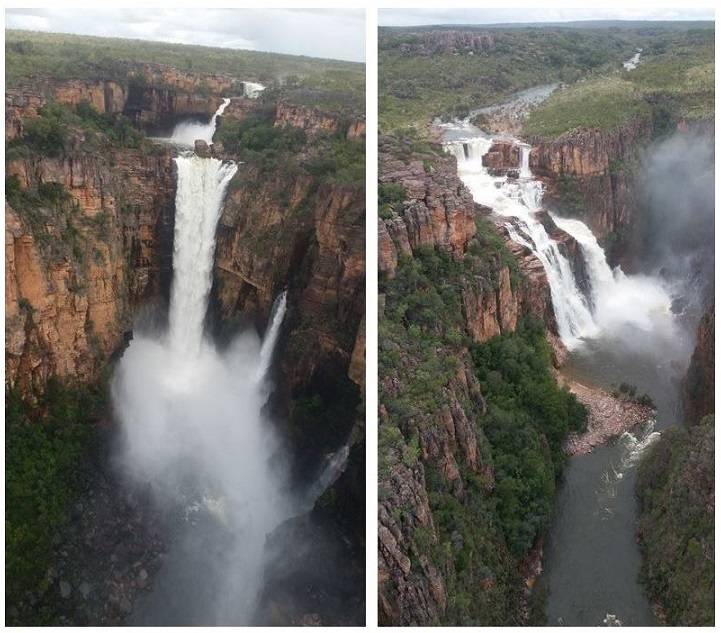 Jim Jim Falls (left) and Twin Falls in the wet season
If you'd like additional information about Twin and Jim Jim Falls or would like to join a Kakadu tour into these places please email or call Venture North on (08) 89275500.