Posted on 17 June, 2015 in Kimberley
A Kimberley tour from the perspective of Venture North head guide David McMahon.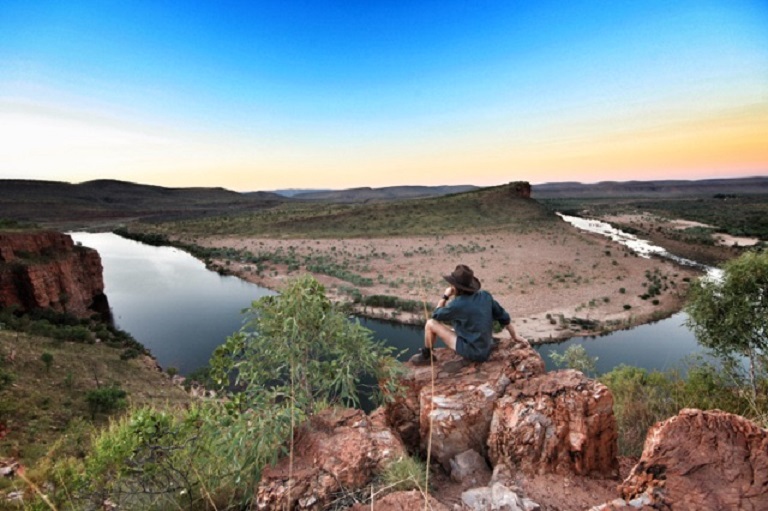 Since I can remember, the Kimberley has always been a place that I have longed to visit. The enormous landscapes, timeless formations, ancient living culture, fascinating history and abundance of unique wildlife have conjured up images of a special and spectacular part of this incredible country.
A few years ago as guide for Venture North I finally got the chance to explore this region and with many return visits over the past years I have been able to discover and unlock some of the secrets of the Kimberley and share this world with guests from around the globe.
Every time I set off from Darwin on a nine day Kimberley to Broome tour through the wild north west I never know what's around the next corner.
I never get sick of hearing the guests gasp as we turn the bend on another stunning vista and glide past ancient Boabs in awe
Even before we've hit the Western Australia border, Gregory National Park with the mighty Victoria River winding through and its enormous deep red escarpment cliffs is a sight to behold. The drive into Keep River National Park where we spend our first night is anything but dull. Ingenious hawk traps used by the Miriwoong Aboriginal people are a reminder of this lands ancient occupation and our campsite for the night is in the shadow of colourful, deeply eroded sandstone formations.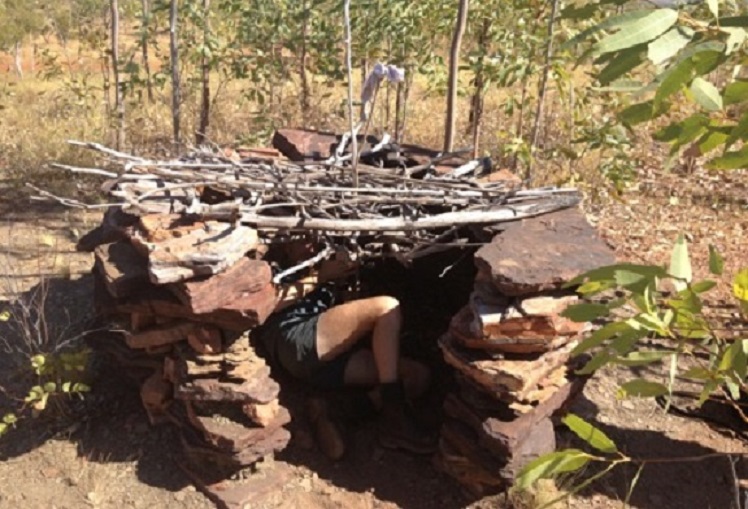 Crossing into Western Australia the following morning means setting your watch back an hour and a half and stepping into geology that goes back 1.8 billion years. It's hard to get your head around the numbers as you cruise the morning away in the enormity of Lake Argyle. This is water on a biblical scale and a serious feet of engineering. The density of wildlife (20,000 freshwater crocodiles, loads of fish and birds galore), the age of the rocks and the sheer volume of water has your head spinning. What's more is that Lake Argyle is breathtakingly stunning!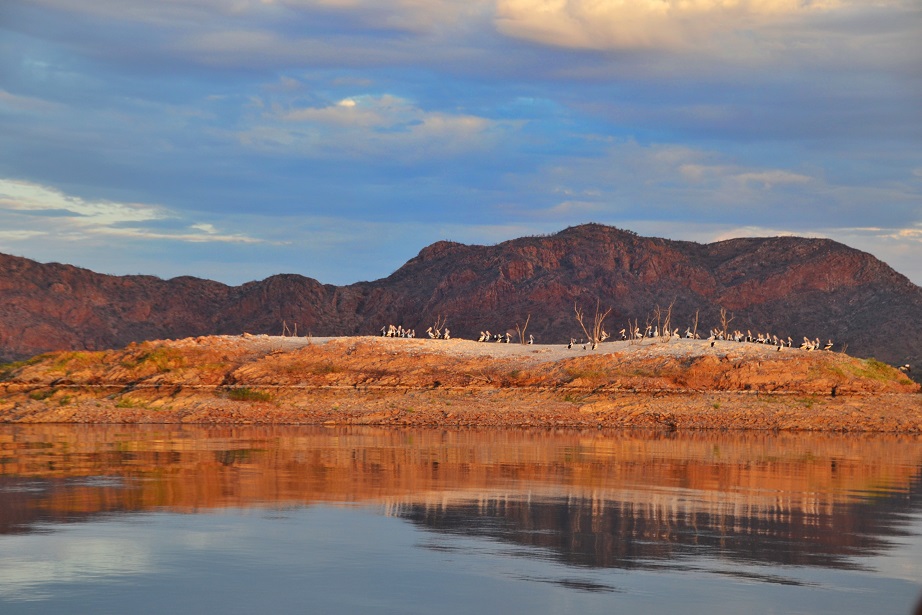 After a quick stop to look around in Kununurra and lunch at the beautiful spillway we head south-west down the Great Northern Highway towards Purnululu National Park. This place rocks! Literary! Spending the next few days wandering through this World Heritage listed National Park is an experience everyone should have in their lives and a helicopter flight over the park is a highly recommended addition. The rock formations are hard to describe in words and the famous domes are really only the tip of the iceberg of what makes this place so special.
Cathedral Gorge as well as being eye gaping and mouth dropping has acoustics that scream out for a soprano to belt out a haunting tune. Echidna Chasm is straight out of an Indiana Jones film and you truly understand what all the fuss is about when you sit quietly and watch the sunset over the nearby ranges as it casts a golden glow over the spinifex valleys and lights up the rusty reds of the Bungle Bungles. A perfect end to the day and you can see why this place holds such importance to the Gidja Aboriginal people.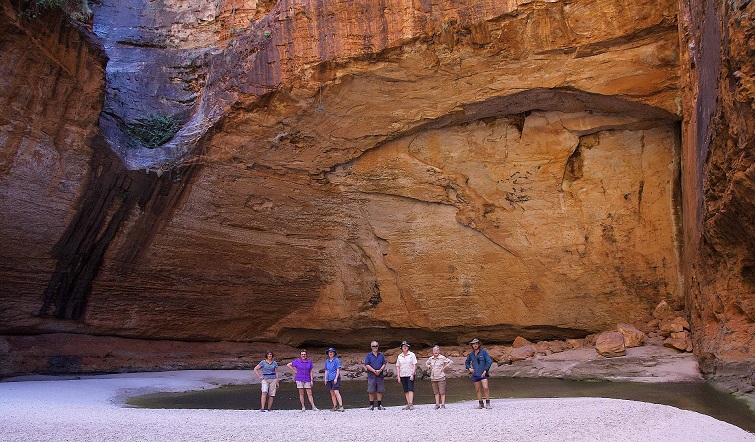 El Questro is the next campsite we roll out our cushy swags and this one million acre, working cattle property has well and truly earned its reputation as a tourism destination. El Questro manages to offer all the comforts of a tourist park whilst keeping its bush charm and outback feel. The property speaks for itself and a cool early morning soak in Zebedee Hot Springs has you melting with relaxation and ready for the shaded creek side hike into Emma Gorge.
You just can't get sick of the Kimberly gorges as every single one is completely different and picking a favourite is near impossible.
A cooling swim in Emma Gorge and the lure of an a-la-carte lunch at the resort gives the energy needed for the hike out. The unforgettable afternoon cruise on Chamberlin Gorge and an exciting drive and sunset Champagne at Branco's lookout (one of my favourite lookouts in the country) tops off our stay. Next we leave El Questro to tackle the Gibb River Road and I'm already anticipating my next tour here.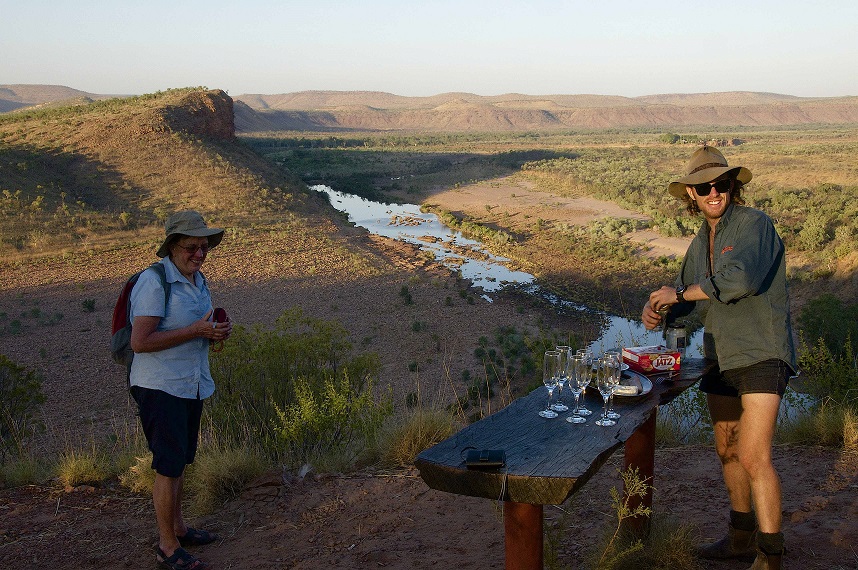 The Gibb River Road used to be a really uncomfortable and challenging ride but with some recent upgrades and our top of the line Toyota Landcruisers, this 660km cattle route stretching from Kununurra in the east to Derby in the west is a comfortable breeze. The next few days are spent winding through Kimberly ranges, jumping from gorge to stunning gorge and visiting cattle stations and Aboriginal communities along the way. Ellenbrae Station offers a great cup of tea stop and the best scones, jam and cream you've ever had!!
I've been lucky enough to be gifted some knowledge over the last few years by Aboriginal people and other locals alike as to the whereabouts of some of the Kimberly's many hidden rock art sites. Wandjina and Gwion Gwion (Bradshaw) art is everywhere in the Kimberly if you know where to look. Imintji community has a fledging art centre and I all ways look forward to a look at the art and a chat with local artists.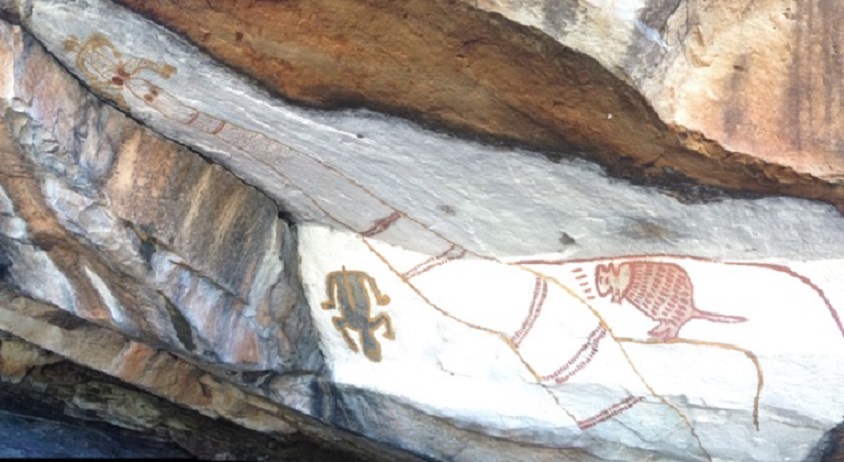 We finish off our incredible journey exploring the Napier Range, home to Windjana Gorge and more freshwater crocodiles than I have seen anywhere! A night walk spotting croc eyes and other nocturnal wildlife is one of my favourite things to do here and when you turn off your torches and gaze up through the high walls of the gorge towards the infinity of stars it's a magical experience. Tunnel Creek is also part of the same range of 380 million year old Devonian Coral Reef limestone and a walk through this 750m cave with a torch is very exciting! Carefully edging through the water inside this dark, cool cave you can spot freshwater crocodile and ghost bats if your with a guide that knows how to find them. There's nowhere else like it!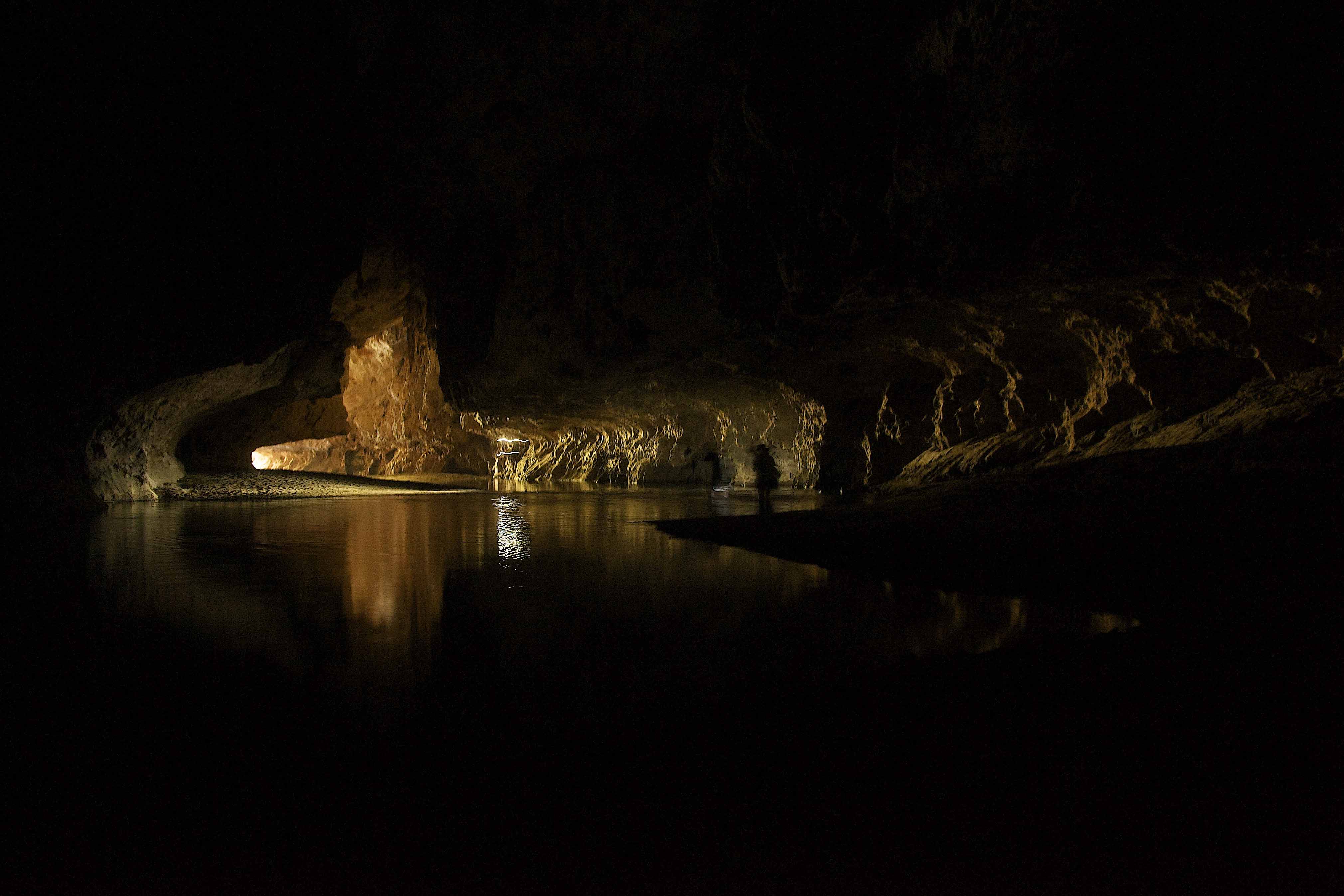 Finally arriving in Broome and feeling that cool salty air is just what's needed to revive the weary traveler and with such an interesting history and incredible environment Broome is a happening yet laid back town.
A Kimberley tour is an experience that everyone should do at least once and I love nothing more than sharing this part of Northern Australia.
I look forward to my next Kimberley adventure guiding with Venture North and wonder how I got so lucky!
All words by David McMahon.